The Cleveland Cavaliers Have All But Guaranteed Themselves an NBA Championship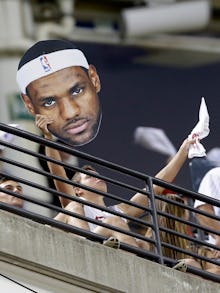 If you build it, they will come. And Kevin Love is coming to Cleveland.
Yahoo! Sports reports the Minnesota Timberwolves have agreed "in principle" to send the 6'10" power forward to the Cavaliers, where he'll join four-time MVP LeBron James.
Image Credit: Getty
Along with All-Star point guard Kyrie Irving, the trio hopes to bring Cleveland its first NBA championship in franchise history. And in a significantly weakened Eastern Conference, they have an excellent chance to do so.
Details: The trade breaks down as follows.
Love joins the Cavs while back-to-back No. 1 draft picks Anthony Bennett and Andrew Wiggins go to Minnesota along with a protected 2015 draft pick. The trade comes with the agreement that Love will opt out of his current contract and sign a five-year, $120-million extension with Cleveland in 2015.
Image Credit: AP
Here it gets tricky. Since Wiggins just signed his rookie contract, his trade can't be finalized until August 23. Hence the "in principle" qualifier: If either team choses to renege on this trade for any reason before then, the other side has no legal recourse.
However: This is unlikely. Both teams stand to benefit from the arrangement, as Love has long expressed his unhappiness in Minnesota and the Timberwolves see "superstar potential" in Wiggins, the celebrated small forward out of Kansas.
What this means for the NBA: LeBron James' decision to leave the Miami Heat this summer constituted a major shift in league-wide power dynamics.
Image Credit: AP
The 2012 and 2013 NBA champion and Finals MVP has been arguably the best player in basketball for years, and any team he joins has a fighting chance at a title by virtue of his talent alone. This makes him an extremely appealing teammate for players in the hunt for a championship, like the long-suffering Kevin Love.
Though it's been suggested that the Cavs will struggle on defense with a starting lineup featuring Love and Irving, in truth, the biggest obstacle standing between them and a Finals appearance is the Chicago Bulls, assuming injury-prone point guard Derrick Rose stays healthy.
Otherwise, the city of Cleveland faces the very real possibility of raising its first championship banner in 49 years.