Metta World Peace Has a New Name and It Has Something to Do With Pandas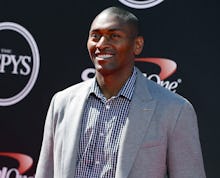 We were sure that Metta World Peace's move to the Chinese Basketball Association for a record $1.43 million this season was an announcement bound to be followed by much fanfare. We didn't anticipate that the gimmicks would start as soon as he lands in the country. After he confirmed his move to the CBA club Sichuan Blue Whales, making him the costliest imported athlete in the country, World Peace announced that he will change his name.
The 34-year-old had made the announcement on both Twitter and Weibo, the biggest Chinese social media network where World Peace has more than 960,000 followers, that his fans will love his latest moniker.
And now he has finally declared that the new name is — wait for it — "The Panda's Friend."
World Peace actually loves pandas and claimed that going to see the animals with his daughter was top on his to-do list after arriving in the country.  
The Internet was quick to react to this name change as people imagined a jersey with "Panda Friend" written on it. 
The new name is his way of saying that he loves China, its people and is a friend to them. His team's base Sichuan is best known for the animal — and so the name is most likely to be accepted as an endearing gesture from his fan base in the country, especially after news of his move was so well received. 
When World Peace, who legally changed his name from Ron Artest in 2011, announced the move to China, it become a viral sensation with 8,960,000 mentions for "Metta World Peace signs with CBA" recorded on Baidu.com, an e-commerce platform. According to the China Daily, an English-language paper based in Beijing, it also got 25.75 million hits on Weibo. 
And the former LA Lakers' player's decision to play their season for four months doesn't seem to be motivated by the money alone. It's likely to give him a shot at further image rehabilitation, in a similar way as fellow New Yorker Stephon Marbury, who now has a statue of him built in China's capital after leading his Beijing Ducks to the team's first ever CBA Championship trophy. 
Artest maintains his signature cocky style, declaring "if you think the name is creating a buzz, wait for my first appearance on court." It's been interesting to see him evolve from public enemy No. 1 and most ridiculed NBA player, (following the Malice at the Palace incident) to an icon who embraces his eccentricities and carves his own niche. One can only hope there won't be any "no brain, all beard" controversies in China. 
You can watch Metta World Peace explaining his previous name change here: