If You Have a Beard, You Should Move to One of These 10 Cities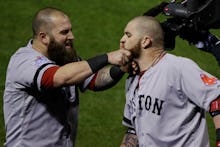 For men, growing a beard is the easiest possible way to change your appearance — all you have to do is stop slicing hair off your face in the morning. Be careful, though. Maybe not everyone appreciates your new look.
A new study from grooming company Wahl aims to help men sync their hometown up with their facial hair desires. Wahl ranked cities based on their beard-friendliness, so any interested men can start packing their bags (and leaving the razors behind).
The top 10:
Boston
Los Angeles
Miami
Chicago
Salt Lake City
Minneapolis
Austin
Seattle
Denver
Nashville
Boston dove headfirst into the number one spot, according to Wahl, surely due to the majestic beards the Red Sox sported during their World Series run.
Image Credit: MLB.com
Wahl says it based its rankings on "in-depth analysis of the online universe over the past two years for beard and mustache positivity. Conversations and searches surrounding facial hair were measured, and cities were ranked based on overall interest and positive sentiment." Remember that this is just a trimmer company doing an unscientific study before you go and get all mad, New York.
To beard or not to beard: If your growing facial hair to attract a lovely suitor, keep in mind a few other considerations before moving to one of those fine American cities. (Like why you're basing your move on beard-related dating, though that might put you beyond the help of Wahl and science.)
According to a study published in April in the journal Biology Letters, women find facial hair more attractive when its less common. In the Red Sox locker room, for instance, your beard is just one of many. In a mass of otherwise clean-shaven men, though, you'll stand out and look more attractive by comparison.
So if you're just looking for "beard and mustache positivity," you apparently can't go wrong with any of the cities above. If you're looking for a date, maybe grow it out for a few days then head for smoother pastures.