17 Pieces of Advice for Struggling Writers, from the Famous Authors Who Have Been There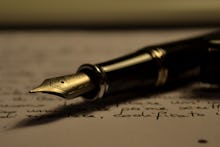 That moment of panic after staring at the blinking cursor on a blank word document without a single idea to put down: We've all been there.
But young struggling writers, you are not alone. Those dark feelings and moments of self-doubt are universal, and even brilliant authors suffer through them during the painstaking creative processes. 
Do not give up. Here are 17 bits of wisdom from brilliant authors. Whether you want advice on how to make writing your career or just how to get the next sentence down, this list will remind you of all the reasons you love writing.
1. "To write well about the elegant world, you have to know it and experience it to the depths of your being." - Italo Calvino
Calvino was an Italian writer of short stories, novels and journalism. He is best known for Invisible Cities, where he took this quote to heart by making the smallest details of imaginary cities come to life. Calvino was expert at using few words to create extraordinary depth. He urges us to fully know and experience the world by concluding, "What matters is not whether you love it or hate it, but only to be quite clear about your position regarding it."
2. "Show up, show up, show up, and after a while, the muse shows up too." - Isabel Allende
Chilean writer Allende is famous for rich magical realism, the beauty and creativity of which could only have been inspired by the muse. She is one of the most widely read Spanish-language authors and frequently writes about the lives of women, for which her novel The House of the Spirits is best known. 
3. "Every character should want something, even if it is only a glass of water." - Kurt Vonnegut
Vonnegut blended satire, humor and science fiction in his classic novels, from Cat's Cradle to Slaughterhouse-Five. He was a humanist who believed in the value and agency of human beings, which he infused in both his life and his writing, never underestimating the power of an individual's desires. This is just one of eight pieces of advice for writing a short story from his book Bagombo Snuff Box: Uncollected Short Fiction. 
4. "Perfectionism is the voice of the oppressor, the enemy of the people. It will keep you cramped and insane your whole life." - Anne Lamott
Lamott has spent her life fighting oppression, complementing her successful writing career with an active involvement in progressive politics. Her work is marked by self-deprecating humor and honesty, and encompasses difficult topics from alcoholism to depression. She's not after the illusion of perfection in her writing. 
5. "Don't tell me the moon is shining; show me the glint of light on broken glass." - Anton Chekhov
Chekhov's day job was as a physician, which was in addition to being one of the greatest writers in history. For someone who spent half his career wishing for straightforward information about patients, it's telling that he was so eager to avoid that in his work. He once wrote to a friend, "Medicine is my lawful wife, and literature is my mistress." 
6. "You have to simply love writing, and you have to remind yourself often that you love it." - Susan Orlean
Orlean is an American journalist who has been a staff writer for the New Yorker since 1992, so she knows a thing or two about quality journalism. As part of a publication that only accepts the best of the best, she probably also knows a thing or two about the rejection that writers have to face. Who better to remind you of the worth of your task than a successful writer who still believes in it?
7. "Do back exercises. Pain is distracting." - Margaret Atwood
Atwood is a prolific writer of novels and countless short stories, so she is quite familiar with sitting in a chair all day to write. Today she's in her 70s and still producing work. If her back has held up, yours can too.
8. "Be daring, take on anything. Don't labor over little cameo works in which every word is to be perfect. Technique holds a reader from sentence to sentence, but only content will stay in his mind." - Joyce Carol Oates
Oates published her first book in 1963, and in the 50 years since has published more than 40 novels. That's not even counting her plays, novellas, short stories, poetry and nonfiction. Clearly her decision not to labor over smaller details has paid off, as she's won prizes from the National Book Award to the National Humanities Medal. 
9. "Prose is architecture, not interior decoration." - Ernest Hemingway
Hemingway is famous for his understatedness and economic use of prose. His signature style makes him one of the classic American novelists, thanks to novels like A Farewell to Arms and The Sun Also Rises.
10. "Kill your darlings. Even when it breaks your egocentric little scribbler's heart, kill your darlings." - Stephen King
While King is famous for horror novels that frequently feature murder, he's not referring to killing off characters here. Instead, King's "darlings" (taken from a William Faulkner quote) are his words — those phrases and bits of prose that you love for style but that don't add anything to the content. 
11. "If you want to write, you need to keep an honest, unpublishable journal that nobody reads, nobody but you." - Madeleine L'Engle
Famous for her young adult fiction, including A Wrinkle in Time, this is one of L'Engle's three pieces of advice for writers, "whether they're 5 or 500." The second is that you need to read, and the third, to just write a little bit every day — write, write, write. 
12. "Start telling the stories that only you can tell." - Neil Gaiman
Celebrated English author Gaiman continues, "There'll always be better writers than you and there'll always be smarter writers than you. There will always be people who are much better at doing this or doing that — but you are the only you." This advice has served him well so far, from his unique novels American Gods and Coraline to his groundbreaking Sandman comics. 
13. "You can't be that kid standing at the top of the waterslide, overthinking it... You have to let people see what you wrote." - Tina Fey
Writer, actress and comedian Fey says the key is "not being too precious about your writing. You have to try your hardest to be at the top of your game and improve every joke you can until the last possible second, and then you have to let it go." 
14. "Don't make money your goal. Instead, pursue the things you love doing and then do them so well that people can't take their eyes off you." - Maya Angelou
The infinitely wise poet and author Angelou also observed, "You can only become truly accomplished at something you love." 
15. "The first thing is to read, and to read a lot. The second thing is to write. And the third thing, which I think is absolutely vital, is to tell stories and listen closely to the stories you're being told." - John Green
Green is behind the bestselling YA novel-turned-movie and general phenomenon The Fault in Our Stars. He also runs a YouTube channel with his brother, where he gives advice to teenagers about writing, books to read and life in general. 
16. "Good novels are produced by people who voluntarily isolate themselves and go deep, and report from the depths on what they find." - Jonathan Franzen
Franzen's essays and novels prompted Time magazine to declare him a "Great American Novelist." He believes "the Internet in general — and social media in particular — fosters this notion that everything should be shared ... But it specifically doesn't work, I think, in the realm of cultural production — and particularly literary production."
17. "Abandon the idea that you are ever going to finish." - John Steinbeck
Steinbeck also advised, "Lose track of the 400 pages and write just one page for each day. It helps. Then when it gets finished, you are always surprised." The author of classics short and long, from Of Mice and Men at just over 100 pages to East of Eden at more than 600 pages, Steinbeck made this method work.