Brace Yourself: Lonely Island Is Teaming Up With Judd Apatow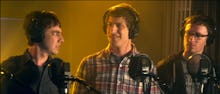 Please try to contain your squeals of joy. The Lonely Island and Judd Apatow are uniting to make a musical — and it's going to be incredible.
That's right: The trio that brought you "Dick in a Box" and "I'm on a Boat" is teaming up with the creative genius behind Knocked Up and The 40-Year-Old Virgin to make a full-length Lonely Island movie.
Deadline Hollywood reports that Universal has signed the Lonely Island stars Andy Samberg, Akiva Schaffer and Jorma Taccone to work with Judd Apatow Productions on a film "set in the world of music." With three studio albums and 20 singles, the Lonely Island is probably the funniest act in music after Weird Al. They've brought us masterpieces ranging from the expectations-shattering "Jack Sparrow"...
...to the infamously titled "Jizz in My Pants":
Apatow is best known for being a director, but he's also worked as a producer on comedy classics like Anchorman and Superbad, as well as cult hit TV series Freaks and Geeks. Basically, he's been behind some of the funniest films of the past two decades.
Taccone and Schaffer will head the project, both bringing directing credits from a variety of projects including Saturday Night Live skits, comedies and TV shows like Parks and Recreation. Samberg recently won a Golden Globe for his performance in Brooklyn Nine-Nine and has received countless accolades for his seven years on SNL.
Cinema Blend is quick to note that the three Lonely Island principals have a mixed track record at the box office, with bombs like 2007's Hot Rod, 2010's MacGruber and 2012's The Watch. Presumably Apatow's insanely successful production company, which has launched several relative unknowns to stardom, has been brought in to make sure that this is the amazing Lonely Island movie we need and deserve.
This will be a make-or-break production for the group, and it looks like everyone involved is already pulling out all the stops. Hopefully it's enough, because YOLO: