Meet the Performance Artist Who's Having Sex With Someone New Every Day For a Year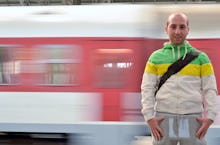 Mischa Badasyan is a 26-year-old performance artist and activist whose next project is turning heads. He has a plan to have sex with someone different, every day, for a year.
That's the basis of Badasyan's new project, "Save the Date," the latest in a line of works that explore modern ideas of sexuality and homosexuality. Badasyan, who was born in Russia and now lives in Berlin, has received unprecedented international media attention, both good and bad, for "Save the Date." The project will begin in September. Badasyan chatted with Mic via Skype about this latest controversial project — a performance that he says is inspired by the gay condition, Taiwanese artists and French philosophy. 
On hearing about the premise, most people react with snark. But Badasyan's project asks powerful questions about today's hook-up culture, particularly within the gay experience, and how that in turn translates to loneliness. Casual, consistent sex is not only an old gay stereotype, but is also easily enabled by apps like Grindr, Scruff or Mister. Badasyan's performance may seem ludicrous at first, but he's only pushing an everyday reality to its extremes.
Badasyan expects to explore the relationship between the culture of hook-ups, loneliness and the idea of "non-places," a concept in the work of French philosopher Marc Auge. "He was writing about non-places in the big cities; places like supermarkets, shopping malls, airports, motorways, and he says that people lose their identity, there's no communication, people don't feel a belonging to somewhere and that causes the loneliness of people," said Badasyan. "Save the Date" will extrapolate this cold, often corporate sense of loneliness into his sex life, exploring non-places in reality, in interpersonal relationships and on the Internet, the ultimate non-place.
By meeting up with men in places such as parks, Badasyan will explore what happens to sexual interaction when it occurs in a non-place. It's an experience he knows about from the time he spent performing in Glasgow, while simultaneously looking for men: "I would go to [the park] every night and have sex with guys ... until 5 o'clock [or] 6 o'clock in the morning. And I was always … I felt very bad, I was crying all the time. I am always sad after these kind of meetings."
He wonders what it means for a person to become as amorphous and cold as the locations themselves. "Eventually I'll be like a non-place," he said. "so it'll be like a supermarket. I'll go on the date and then I'll go back." Becoming a non-place, as disconnected from reality as an airport is from a city center, exposes something interesting about loneliness: Badasyan may meet somebody every day, but that doesn't mean he doesn't feel alone.
Badasyan has been a regular user of gay websites like GayRomeo and Gaydar, and has never been in a relationship. He has downloaded meet-up apps Grindr and Scruff for the project, but he will have to rely on other means if he is alone in a foreign country. "I might be invited to festivals, I might go to another country," he said. "So I might just find someone in a sex club or in the park cruising."
Although this is not the artist's first time exploring 21st-century ideas of sex, it is a marked change from his previous work, which has usually been inspired by working with an audience. "Save the Date" cuts out the audience entirely from much of the project. The lovers don't function as an audience either; according to Badasyan, they instead become second parties to the work itself. He will, however, create public performances using photo, video and soundscapes inspired by his experiences.
"Save the Date" operates in the grand tradition of year-long performance art pieces, a step away from Badasyan's usual muse, Serbian performance artist Marina Abramovic. "Abramovic does three-month performances, but they're not long enough," he said. "A year is really challenging; one year of your life, that's tough." Badasyan is drawing inspiration from artists like Sophie Calle and Tehching Hsieh, who once punched his clock every day for a year. Their abstractness and dedication to a single work has Badasyan fired up.
Badasyan's focus for this work is exploring the gay condition, but hook-up culture's loneliness and sterility are becoming increasingly universal.
"It's easier for a gay man to do this kind of project," he said. "It's why I feel lonely. Straight people don't have these kind of applications, so many gay chats, in terms of cruising, sex clubs, sex bars, they don't have as many opportunities as gay people." Badasyan's focus on older gay traditions like cruising reminds us that even before the impersonal Internet, the gay community was cast as a sexual other forced to seek intimacy in the non-places of society. These have included cruising inner-city parks or the interfaces of an app like Grindr.
So far, Badasyan's upcoming work has been received with cynicism. "I don't deny that it's a bit egoistic," he said. "It's OK. It's performance art, and a performance artist should always be pushing his own body and the performance."
Badasyan seems hardened by a gay culture that has left many feeling bitter. The ability to choose almost complete anonymity often leads people to behave terribly behind the mask of an Internet profile. People often dodge making real commitments or sincere connections. 
Badasyan's project does not start until September, but the controversy is already swelling and supporters are coming out to join him. An HIV organization is supplying Badasyan with condoms, and his previous work as an activist for HIV and AIDS organisations is influencing his work. "It's kind of a social project," he said. "I'm going to be promoting safer sex."
Other than that, the calendar for next year is still blank, except that a first and a last date have been arranged. Almost anything can happen, and that's how Badasyan wants it. "I like to keep it open. I don't want to say it's going to happen like this, because it's performance art," he said. "The whole idea, why it's art, why it's a performance, is the process — the process of finding someone."
(h/t Vocativ)