The One Quote on Iraq That Obama Probably Doesn't Want You to Read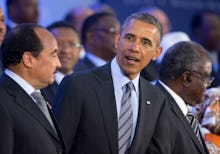 President Obama may want to listen to candidate Obama.
In recent days, Yezidi women, men and children from the area of Sinjar have fled for their lives. And thousands — perhaps tens of thousands — are now hiding high up on the mountain, with little but the clothes on their backs. They're without food, they're without water. People are starving. And children are dying of thirst. Meanwhile, ISIL forces below have called for the systematic destruction of the entire Yezidi people, which would constitute genocide. So these innocent families are faced with a horrible choice: descend the mountain and be slaughtered, or stay and slowly die of thirst and hunger.I've said before, the United States cannot and should not intervene every time there's a crisis in the world. So let me be clear about why we must act, and act now. When we face a situation like we do on that mountain — with innocent people facing the prospect of violence on a horrific scale, when we have a mandate to help -- in this case, a request from the Iraqi government — and when we have the unique capabilities to help avert a massacre, then I believe the United States of America cannot turn a blind eye. We can act, carefully and responsibly, to prevent a potential act of genocide. That's what we're doing on that mountain.
Democratic presidential hopeful Barack Obama said Thursday the United States cannot use its military to solve humanitarian problems and that preventing a potential genocide in Iraq isn't a good enough reason to keep U.S. forces there.
Source: Gallup