This Is the New 'Charlie and the Chocolate Factory' Cover That Has People So Upset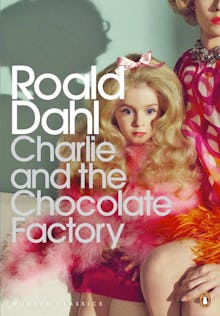 We've got some good news and some bad news. The good news? Roald Dahl's Charlie and the Chocolate Factory has earned a place in the Penguin Modern Classics canon. The bad news? The cover looks like this: 
For a book about poor boy who wins a golden ticket tour of a chocolate factory, the choice is a strange one. Cropped from a 2008 photoshoot in Numero Magazine entitled "Mommie Dearest" the image, according to Penguin, "looks at the children at the centre of the story, and highlights the way Roald Dahl's writing manages to embrace both the light and the dark aspects of life."
People on social media have been far less sympathetic to this interpretation, including Chocolat writer Joanne Harris who addressed the cover's strangely sexual nature via Twitter. 
Other fans too have found the image inappropriate and Lolita-esque:
And others just think it doesn't capture the book at all:
Of course, others still have praised the cover's dark undertones and overly-plastic representations of the spoiled rich kids the book pastiches:
It's an interesting take on the book's central themes, and a million miles away from Quentin Blake's willowy illustrations which are far more evocative of what a children's book cover usually looks like:
The over-preened Toddlers and Tiaras-esque subject on the new Penguin cover presumably draws on two of the main characters — British brat Veruca Salt and the obnoxious Violet Beauregarde — in a manner that is not unlike Tim Burton's cinematic take on the characters:
Regardless, Penguin's preview of the cover has people talking, which is likely their aim, anyway. Do we need a sexualized toddler on the cover of a Roald Dahl classic? Definitely not. Will it help Penguin to sell more books? It probably will.
The book will be released on Sept 4. No golden ticket required for purchase.