10 Years After Indonesia's Deadly Tsunami, a True Miracle Has Happened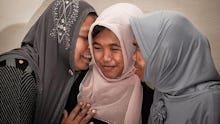 Raudhatul Jannah was four in 2004, when the Indian Ocean tsunami struck Southeast Asia, killed more than 275,000 people and carried her away from her family.
Ten years later, the unthinkable happened: Her uncle found her alive.
Image Credit: AP 
The story: According to the Jakarta Globe, Raudhatul and her brother, who also went missing on Dec. 26 2004, slipped out of the reach of their parents as they held onto a plank of wood. The parents, named Jamaliah and Septi, soon gave up hope that they would find their children.
Jamaliah's brother alerted the family after seeing a girl who looked like his niece in June. Jamaliah told the Jakarta Globe that the children had been swept away to Banyak Island, a remote island off the coast of Indonesia. A fisherman found Raudhatul and took her home to his elderly mother, who then cared for her. She lived in the Aceh Barat Daya district, which is about 50 miles from where Raudhatul's family lives in West Aceh.
Image Credit: Google 
According to news.com.au, the family was reunited on Wednesday. "My husband and I are very happy we have found her," said Jamaliah, Raudhutal's mother. "This is a miracle from God."
Her survival is nothing short of a miracle. The 2004 tsunami, which resulted from a 9.0 magnitude earthquake, hit the west coast of Sumatra, close to where Raudhutal and her family live.
Image Credit: National Geographic 
As the third-largest earthquake ever recorded, the resulting tsunami became one of the deadliest natural disasters in history. According to the U.S. Geological Society, the energy released by the earthquake was the equivalent to what would be released with the detonation of 23,000 Hiroshima-type atomic bombs.
Indonesia was hit the hardest, but the surrounding countries of Thailand, Sri Lanka and India were also devastated.
The UN estimated that more than 500,000 people were displaced from their homes.
Image Credit: USAID
It was the deadliest earthquake in 500 years.
Image Credit: Reuters
This story encapsulates the power of humanity. That a 4-year-old survived one of the most destructive natural disasters in recorded history is stunning in itself. That a woman took her in during devastating circumstances confirms that people are generous and big-hearted in the face of adversity. That the young girl reunited with her family 10 years later is a near-fairytale ending to a personal, national and global tragedy.
With Raudhutal now safely home, the family has turned their energy towards finding their son, who his sister believes also survived. "We will look for him on Banyak Island because we believe he is still alive," Jamaliah told news.au.com.