These Vivid Photo Filters of the Future Make Instagram Look Like Child's Play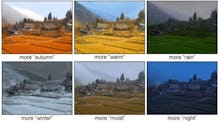 Have you ever found yourself overlooking a stunning vista or landscape, only to find that Instagrams bundle of filters don't do the beautiful scene justice? 
"Now the computer has data to learn what it means to be sunset or what it means to be summer or what it means to be rainy — or at least what it means to be perceived as being those things," Hays said. "If you wanted to make a picture rainier, the computer would know that parts of the picture that look like sky need to become grayer and flatter. In regions that look like ground, the colors become shinier and more saturated. It does this for hundreds of different regions in the photo."