Horrifying Footage Shows Last Night's NASCAR Tragedy Caught on Video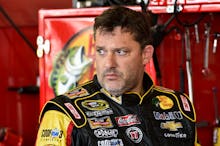 The news: On Saturday night at a dirt-track race in Canandaigua, N.Y., this is how 20-year-old Kevin Ward Jr.'s life was taken. (Warning: Graphic footage)
Tony Stewart is a self-professed avid fan of racing on dirt tracks, but Saturday's tragic incident may likely affect his future decisions. Around 10:30 p.m. that night, Tony Stewart and Kevin Ward Jr. were both rounding out lap 14 of the 25-lap Lucas Oil SuperSprint feature race. 
An amateur video shows Ward and Stewart's vehicles bumping, causing Ward's car to spin, hit the wall and get a flat tire. Ward then steps out of his car, in all black, with the caution flag and points at Stewart. 
Stewart's car then makes contact with Ward who is sucked under the vehicle and dragged underneath until breaking away and sliding another 50 feet on the track. Ward was quickly rushed to a local hospital. He was pronounced dead shortly after at 11:15 p.m.  
The aftermath: Initially on Sunday morning Greg Zipadelli, Stewart-Haas Racing director, said that Sunday's NASCAR Sprint Cup race would go on as usual, meaning that Stewart planned to race in the wake of the incident, according to the Washington Post. But as severe backlash mounted, especially after the video's release, Zipadelli changed his tune.
"We talked last night and realizing going through the night — [we] gave Tony some time to sleep on it and I met with him this morning. He feels strongly that this is the right thing to do," Zipadelli said of Stewart's decision not to race on Sunday. "We at HSR support it and agree with it. Like I said, it's a difficult time, for both parties. There's not a lot you can do. All you do is what you feel is right. This is what we feel is right and we're supporting Tony in it."
Sheriff's officials said that Stewart is completely cooperating with the investigation, which is not a criminal case at this point and no charges have been filed. The Washington Post reported that in a press conference Sunday morning, Ontario County Sheriff Philip C. Povero said, "Mr. Stewart has, again, fully cooperated with the police officers that are investigating. He was visibly shaken by this incident and has promised his continuing cooperation in this investigation."
As the investigation continues and Stewart is out of Sunday's race, the response on Twitter has been nothing but boisterous. 
The mixed reaction on social media adds to how complex and layered the events leading up to Ward's death really was. It is also a painful reminder that a dangerous sport can quickly turn deadly.