This 18-Year-Old's Death Is Everything Wrong With America's Police Force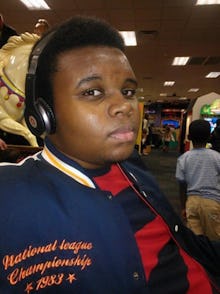 Meet Michael Brown. 
Image Credit: Facebook via NY Daily News
Michael is the latest victim of deadly police misconduct. During an altercation with an officer in Ferguson, Mo., on Saturday, the unarmed 18-year-old was shot multiple times and killed. Several witnesses allege he had both his hands in the air at the time. 
Specifics about the incident are still trickling out, but CNN reported that at a news conference on Sunday, St. Louis County Police Department chief, Jon Belmar said, that they can confirm that "The genesis of this was a physical confrontation." 
On Saturday afternoon, the officer in question attempted to get out of his car when Brown pushed him back into it. Belmar explained that Brown "physically assaulted" the officer and a struggle for the officer's gun ensued. There was one shot fired inside the vehicle and then Brown was struck down roughly 35 feet away from the car. 
While waiting for the medical examiner to confirm the number of shots fired, Belmar did say that "it was more than just a couple," all of which were discharged from only one weapon – the cop's gun. 
The uproar: On Saturday and Sunday, demonstrators and Brown supporters gathered in front of the Ferguson Police Department. Many of them joining in to chant, "We are Michael Brown." 
But the decries of the tragedy did not stop there. Social media has been flooded with harsh criticism of Brown's death. 
Brown's death has also drawn comparisons to the shooting death of 17-year-old Trayvon Martin, the unarmed black teen killed by George Zimmerman in a gated Florida community in 2012.
Brown's death is currently under investigation. The officer involved is on paid administrative leave, but an unarmed teen, shot at close range, lost his life. Putting the consequences of Saturday's events in comparison like that, job suspension is not enough. Putting an end to improper police behaviour is.