Venus and Serena Played a Big Match This Weekend and the Result Was Stunning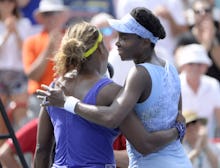 The greatest sibling rivalry in sports history took center stage over the weekend when Venus and Serena Williams met in the semifinals of the Rogers Cup in Montreal. It marked the 25th tour-level match between the sisters from Compton, Calif., though just their second meeting since 2009.
Injuries and ailments have befallen both sisters in recent years. Serena, 32, overcame a near-fatal hematoma related to a pulmonary embolism — and an 11-month absence from the tour — to become the oldest women's player to be ranked No. 1 since the computer rankings began in 1975, winning four Grand Slams and an Olympic gold medal along the way.
Venus, meanwhile, has struggled to find stride since being diagnosed with Sjögren's syndrome — a rare autoimmune disease that causes joint pain, numbness and fatigue — in 2011.
But the time finally came for Venus, who hadn't beat Serena since February 2009, to enjoy another moment in the spotlight. In Montreal, she scraped back from a set down to earn a moment of triumph over her kid sister.
The 34-year-old veteran defeated Serena, the current world No. 1, 6-7 (2-7), 6-2, 6-3 to reach Sunday's final, ensuring a return to the top 20 for the first time in 17 months. For Venus, this is a win that cannot be understated. 
When she announced the Sjögren's syndrome diagnosis during the 2011 U.S. Open, fans finally learned why Venus' match performances seemed erratic, if not compromised, since her last Grand Slam singles win at Wimbledon in 2008. With her displays at majors suffering as a result, including a number of early-round losses otherwise uncharacteristic for one of the game's finest athletes, many wondered if the seven-time major champion were soon to retire from professional tennis. The former world No. 1 has since floundered in the rankings, having dropped as low as No. 137 in 2012.
However, Venus is a known fighter, both on and off the court. During a July 2013 interview with Katie Couric, the talk show host frankly posited the question everyone had on their minds: "The diagnosis has fueled a lot of speculation. Are you planning to retire from tennis?"
With a reassuring smile, Venus said, "No way, no way."
"I feel like for a long time I didn't know why I didn't feel good ... I'd have a horrible loss and go to the doctor," she told Couric, seated next to Good Morning America anchor and cancer survivor Robin Roberts. "Now that I understand why I didn't feel my best, I feel as though I have a second chance."
The head-to-head record between the Williams sisters now stands at 14-11, with younger sister Serena still in charge.
Time will tell whether Venus' big win will give her much-needed momentum going into this month's U.S. Open, a Grand Slam she's twice won during her career. She fell short in Sunday's final against third-ranked Agnieszka Radwanska, but her resurgent play throughout the summer — including a near-win over eventual champion Petra Kvitova at Wimbledon — has made her an opponent that no one wants to face at the U.S. Open, which begins Aug. 25 in New York.
For the moment, the Rogers Cup runner-up can bask in the afterglow of showing her female competitors — and the sports world at large — that she's still a force to be reckoned with. Venus is still a fighter, and fighters don't quit.