Daft Punk Just Released a New Album of Remixes After Making Us Wait Eight Years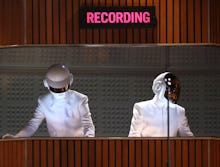 The news: It looks like we won't have to wait any longer for new music from Daft Punk. Well, not entirely new, but pretty close.
After taking the world by storm with their Grammy-winning 2013 album Random Access Memories, the French duo is back with an album of remixes from their 2005 album Human After All.
The new release, Human After All Remixes, was originally released in Japan eight years ago, but is only now available worldwide. The all-star roster of remixers includes electronic music legends like Peaches, Para One, Justice, Basement Jaxx, as well as one from Daft Punk themselves.
The collection of remixes goes heavy on certain songs, including six different versions of "Technologic" and five of the title track "Human After All." Not all the tracks from the original album are paid homage, but there's a lot of juice here to make up for it.
Human After All was Daft Punk's third album, after which they left a gap of more than eight years before returning with 2013's Random Access Memories, their first album with a number of notables features, leading them to new levels of acclaim. With Human After All Remixes, Daft Punk revisits the collaborative spirit that gave them one of the biggest songs of 2013, "Get Lucky." The song remained a hit into 2014, and Stevie Wonder joined Pharrell, Nile Rodgers and Daft Punk to perform the song at this year's Grammys.
Thankfully, we didn't have to wait another eight years to hear something new from this now legendary electronic music act.
You can grab Human After All Remixes on iTunes or stream it on Spotify below.