Here's the Reason All Your Facebook Friends Are Pouring Ice on Themselves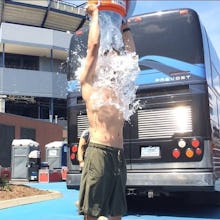 If you've been on Facebook, Twitter, Instagram or almost any other form of social media in the past few weeks, you've probably noticed a lot of people taking a very, very cold shower with a bucket of ice.
And why is everyone doing this? As strange as it might be, they're raising awareness for Amyotrophic Lateral Sclerosis, also known as ALS or Lou Gehrig's Disease, and they're doing a really great job of it. 
The idea came from former Boston College baseball player Pete Frates and his friend and fellow ALS patient Pat Quinn, who was the inspiration behind the Quinn For The Win charity organization. In July, the pair started challenging each other and friends through Facebook and various social networks to take the ice plunge and challenge three more friends every time. If you fail to accept the challenge, you must donate $100 to an ALS charity, according to the Quinn For The Win Facebook page (though that's not really enforceable). 
From just a few guys, the network quickly spread and the challenge went super viral, raising awareness for ALS and filling Facebook feeds around the country. Here's Pat Quinn's brother Dan taking the challenge:
And the idea's creator Pete Frates:
And here's NHL super star Sidney Crosby taking the challenge. 
And New England Patriots' wide receiver Julian Edelman:
And here's country star Dierks Bentley:
The rules: The beauty of the viral trend is in its fun simplicity, but there are a few guidelines:
1. Get a big bucket of ice water. The bigger and colder the better.
2. Have someone record you on their smartphone and mention Strike Out AL for Pete Frates, Quinn For The Winn or Ice Bucket Challenge.
3. Dump the bucket of ice water on your head.
3a. Freak out.
4. Put the video on social media using the hashtags #icebucketchallenge, #StrikeOutALS and/or #QuinnForTheWin and call out three more friends to step up to the plate. 
A huge success: The fact that people are raising more awareness for ALS is a win in itself, but the ice bucket challenge has reportedly also resulted in tangible financial success. According to CBS Boston, the ALS Association recently announced it has raised $168,000 online nationally in the past week. During the same time period last year, that figure was just $14,000. 
"This is not just your elderly grandfather that gets ALS," Julie Frates, Pete's wife, told ABC Boston. "It can be young people."
Mashable reports that according to the ALS Association's estimations, roughly 5,600 people are diagnosed with ALS every year.
"It just proves the goodness of human beings and the power of people. The power of positivity," John Frates, Pete's dad, told ABC Boston. "All we needed, really, was a bucket and a bag of ice to create all the awareness we ever needed."
While some hashtag activism campaigns can descend into more hashtags than activism, neglecting the actual cause or charity involved, the ice bucket challenge has kept ALS on everyone's mind and has already made major strides in helping to fund research to fight the disease. 
Watch Pete Frates' story below:
h/t Mashable