17 Images of Last Night's Incredible Supermoon From Around the World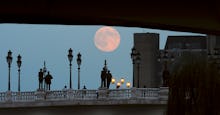 Sunday's "supermoon" was a visual treat the world over, with beautiful photos taken everywhere from the International Space Station to the UK, China and Australia.
A supermoon, known at NASA as a "perigee" full moon, occurs when a full moon gets closest to the Earth during its elliptical orbit. While the Moon's orbit typically keeps it around 238,000 miles from the planetary surface, a full supermoon is as close as 225,000 miles.
NASA says that supermoons appear about 14% larger and 30% brighter than normal full moons. While supermoons usually occur about once every 13-14 months, this year has seen three uncharacteristically close ones — a phenomenon that won't happen again until 2034. Sunday's moon may also be the biggest and brightest for the next two decades, coming in just under 500 km of the closest possible point in the Moon's orbit. It basically couldn't have come any closer, making it an ideal time to snap some beautiful photos. Here are 17 of the best:
Washington, D.C. Image Credit: AP
Madrid, Spain. Image Credit: AP
South Dakota. Image Credit: AP
Athens, Greece. Image Credit: AP
Madrid, Spain. Image Credit: AP
Budapest, Hungary. Image Credit: AP
Munich, Germany. Image Credit: AP
Skopje, Macedonia. Image Credit: AP
Warsaw, Poland. Image Credit: AP
Cape Town, South Africa. Image Credit: AP
While the night was indeed beautiful, America's most-beloved scientist Neil deGrasse Tyson pointed out that it was only slightly bigger than the one in July:
Thankfully starwatchers will have more eye candy soon, as the annual Perseid meteor shower will be visible this week, peaking on Tuesday and Wednesday mornings.