The First Trailer for 'Breaking Bad' Spin-off 'Better Call Saul' Is Here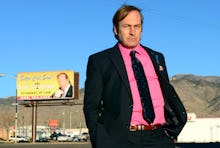 After months of teases, rumors and a stunt billboard in Albuquerque, N.M., Breaking Bad spin-off Better Call Saul just got its first teaser trailer. It may only be nine seconds, but at least it's something. Now the rampant speculation actually has a little bit to cling to.
Creator Vince Gilligan has been suggesting a spin-off focusing on the sleazy, cheesy lawyer for years.
"I like the idea of a lawyer show in which the main lawyer will do anything it takes to stay out of a court of law," he told Deadline in 2012. "He'll settle on the courthouse steps, whatever it takes to stay out of the courtroom. That would be fun — I would like that."
In the promo, which AMC aired Sunday night, Saul Goodman talks to some clients about the work of the legal profession. "Lawyers, we're like health insurance. You hope you never need it, but man oh man, not having it? No."
The Guardian already pointed out that Saul's hair is looking thicker than it did in the original TV show, which confirms the varied time frames of the TV show suggested by executive producer Peter Gould earlier this year.
"One of the great things about having a timeline which is flexible is that perhaps some of it takes place before Breaking Bad, during Breaking Bad and after Breaking Bad," Gould told the New York Daily News. "That gives us the ability to bring back characters that were killed on Breaking Bad." 
There has been no confirmation yet that Better Call Saul will bring back any of Breaking Bad's other characters, though both Aaron Paul and Bryan Cranston have said they would love to come back. In a CNN interview, Cranston addressed questions of a return for Walter White with a coy "never say never." But Gould has also stressed that Saul's career is enough of a narrative thread on its own.
"We want to make a show that stands on it own, is its own story and is a brand extension," Gould told the New York Daily News. "We think we have a story that is worth making. ... We could never dream of the kind of success that Breaking Bad had and the love we got from the fans. But [with Better Call Saul] at a certain point you have to do the best job you can and tell the best story that entertains you, get a good response and hope people like it."
Better Call Saul is expected to air on AMC in February 2015.