Florida State's #AskJameis Twitter Q&A Backfired Spectacularly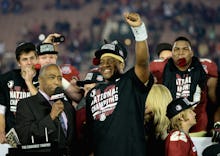 Jameis Winston is the quarterback of the Florida State Seminoles, the defending national champions of college football. Last year, he became the youngest Heisman Trophy winner ever. So what could have possibly gone wrong when the Seminoles decided to send a tweet on Sunday morning asking fans to submit questions for Winston using the hashtag #AskJameis?
Well, here's one snag, and maybe the only one that matters: In 2012, Winston was involved in a sexual assault case at Florida State, and although no charges were filed, the flawed investigation has left many to wonder just what exactly happened and whether Winston escaped without punishment simply because of the incompetence of others. (In a far lesser offense, he was also cited for shoplifting crab legs this offseason.)
This much we know: When a high-profile athlete has been accused of rape — and exonerated under contentious circumstances — it's probably not a good idea to run a hashtag Q&A in an uncontrolled, unmoderated environment like Twitter.
Of course, this is not the first instance of social-media malpractice: See #AskThicke, #MyNYPD and countless other missteps. By now, there have been enough incidents of hashtag campaigns gone wrong that you would think teams and organizations would pause before doing so.
You'd think wrong.
The most inappropriate comments get filtered out and are never part of the actual official chat that's launched from the hashtag, but there's also no mechanism on Twitter to stop people from asking whatever they want. It engenders anger, hostility, and — if there's a silver lining to all of this — an awareness of the far-reaching, deep-rooted issues with sexual assault and collegiate athletes.
The questions range from witty critiques to mindless trolling, which is par for the course with these misguided engagement campaigns. It's a reminder why it's never, ever a good idea to conduct one with a controversial subject.
Twitter does serve a purpose, be it networking with people, interacting with followers while you're watching the same sporting event or as a curator of news. But it's most definitely not the platform to open up questions to someone with Winston's history.
Lesson learned? Probably not.