The Hilarious 'Veep' Scene Tony Hale Deserves an Emmy For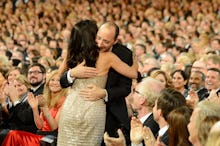 If you watched Veep this year, you very likely told someone about "that bathroom scene" from the two-part finale "The Crate."
Upon finding out that she's going to be president, vice president Selina Meyer (Julia Louis-Dreyfus) and her bag man Gary (Tony Hale) fall into a fit of hysterics on a bathroom floor, complete with a bloody nose, a perfectly timed bike book and some tampon hysteria. It's a scene that's utterly hilarious, entirely cathartic and one of this year's most memorable TV moments (Jeffrey Bloomer at Slate called it "the most satisfying moment I've seen on TV this year"). That the highly talked-about scene came from a comedy makes its watercooler power all the sweeter, as comedy rarely gets the serious love it deserves.
Both Louis-Dreyfus and Hale submitted "The Crate" as their Emmy contender episodes, and that bathroom scene surely has a lot to do with it. Hale especially deserves Emmy recognition for this comedic super-moment.
When TV episodes get the internet all aflutter, it's often thanks to unforeseen twists in a drama or a brilliant segment on a variety show: Think Game of Thrones' "Red Wedding," that fateful push on the House of Cards season 2 premiere or the Q-tip scene from Girls.
When it comes to sitcoms, the laugh-out-loud hilarious scenes (full scenes, not just quotes or entire episodes) feel fewer and farther between. The Friends "Pivot" scene comes to mind, as does Lucille Ball at the chocolate factory or selling Vitameatavegamin. That bathroom scene from "The Crate" is right up there with the greats.
Looking at Veep specifically, the scene is the release of more built-up tension than fans probably even knew they had. After watching episode upon episode built on failure and calamity, we finally get a win. Like Selina and Gary, all we can do, faced with the release of all that angst and stress, is laugh. 
While Dreyfus is a notable Emmy darling (she's been nominated 18 times, and won four) and a win for her is pretty likely, a Hale win would be sweet, on top of making for two wins in a row (he won for his Veep role last year too).
While Hale's time in this particular episode is short, which may hurt his chances, his moments onscreen run the full gamut of emotions and are basically a masterclass in slapstick comedy. There's also something to be said for being a part of what's very easily the funniest — and most satisfying — scene on TV this year. While polling numbers put Ty Burrell from Modern Family as the frontrunner for best supporting actor in a comedy, who's to say Hale can't steal the win? Comedic history has already been made, now it's up to the Emmys to reward it 
The 2014 Emmy Awards air Monday, Aug. 25, at 8 p.m. ET on NBC.