This Badass 13-Year-Old Girl Just Made Little League History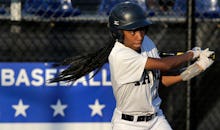 When Mo'ne Davis walks to the plate, "Run The World (Girls)" plays on the stadium PA.
And so far, the 13-year-old from Philadelphia is making Beyonce's anthem to empowerment a reality.
On Sunday, Davis made history by tossing a complete-game shutout in the Mid-Atlantic Regional final to lead the Taney Dragons to the Little League World Series, something no other Philadelphia team has done before. Thanks to her standout pitching, the Dragons beat Delaware's Newark National team 8-0. Davis, the lone girl on her team, struck out six and allowed just three hits in six innings, prompting enthusiastic plaudits from All-Star outfielder Adam Jones, Super Bowl hero Russell Wilson and U.S. Sen. Pat Toomey.
When Davis plays in the Little League World Series in South Williamsport, Penn., this week — Laney opens against South Nashville (Tenn.) on Friday (3 p.m. ET, ESPN) — she'll be the first girl to compete in the 68-year-old tournament for 11- to 13-year-olds in the last decade, and just the 18th girl to compete since the event started allowing female players 40 years ago.
"A lot of the time opposing players don't realize it's a girl; they assume it's a boy with long hair," her longtime coach Steve Bandura said.
But what stands out about the teenage phenom is not just the surprise element or the token girl-among-the-boys narrative. Davis, an honor student entering eighth grade at Philadelphia's Springside Chestnut Hill Academy who's listed at 5-foot-4-inches, 105 pounds, plays for a team based out of Markward Playground in Center City Philadelphia — no small detail in a sport with a well-documented problem attracting inner-city athletes.
Davis is also is a fierce competitor. Having started as an outfielder, the first-ever pitch she delivered was a home run. Her fastball now clocks 70 m.p.h. on the radar gun, above the average pitching speed of players in her age group.
But that doesn't mean no one gave her a hard time when she started out. 
"They probably did in the beginning," Jack Rice, the Dragons' third baseman, recalled for ESPNW. "But once the game is done, they know who Mo'ne is and they know she's the real deal."
And Davis has learned to leverage the criticisms into strengths. "She has incredible leadership, and you can't shake her; she's unflappable," Dragons' manager Alex Rice said. "Hit a home run off her and she'll just give a little smile and get back to work. She doesn't get rattled."
Added Davis' head coach: "When she hits a home run, we like to say that she hits like a girl."
It never occurs to her that Davis is doing something extraordinary. She says she doesn't like the added attention, but she's happy to inspire other girls. "No matter who you are, you should be able to do what you like to do and what you've always dreamed of doing," Davis said. 
"I would actually really like to see how it is to play against another girl in baseball because I never have," she said. "I actually want to see how it feels to be a person on the other team."
While Davis loves to surprise the boys with her curve balls and laughs with her teammates when she strikes her opponents out, she's determined that her success story won't just end at the Little League World Series. 
"I'll probably either be the first female in the MLB or in the NBA," she said Sunday on the Today Show.