Bon Iver's New Rap (Yes, Rap) Album Is Now Streaming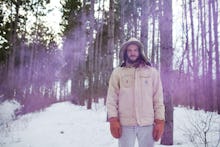 Justin Vernon, the voice behind Bon Iver, became world-famous for the sentimental folk jams he recorded in a Wisconsin cabin. Now he's releasing a rap album, De Oro, as part of a group called Jason Feathers. Suffice to say, things have changed — stream it here and see what we mean.
For the project, Vernon teamed up with his Bon Iver bandmate Sean Carey, his Gayngs bandmate Ryan Olson and a rising Minneapolis rapper named Astronautalis. Though Vernon is a close friend of Kanye West's (he even contributed vocals to the rapper's incredible "Lost in the World"), the recording process for De Oro was a huge departure for both Vernon and his new rapping bandmate.
Astronautalis would freestyle for hours, letting Vernon sift through the vocals and apply what he needed to the music. Astronautalis told CityPages, "A lot of my fans are like, 'Oh this is going to be amazing: Astronautalis rapping and Justin singing choruses.' It's not going to be that. I'm sure that all of Justin's fans are going to be like, 'Oh, it's a new Bon Iver record and there's these other guys.' Everyone's fans respectively are going to expect certain things."
And that's one of the reasons every member of the band has crafted a wacky alter-ego. According to a press release posted by Stereogum, Vernon is Ephasis, a "guitar-crooning lost-cowboy," Carey is named Toothpick and Astronautalis takes on the character of rapper Creflo, a.k.a. Jason Feathers.
If you aren't already curious, we can't help you.