Within 10 Years, You May Never See an Elephant Again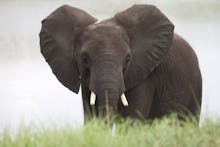 The news: Tuesday marks World Elephant Day, but this year brings little to celebrate. Not only are the world's elephant populations being poached at alarming rates, but the U.S. plays a big part in the mess.
Because of inadequate funding and enforcement, as well as confusing regulations, the ivory trade in America is surprisingly strong. Despite U.S. laws that focus on containing ivory imports and exports, smugglers constantly bring ivory into the commercial market. The U.S. Fish and Wildlife Service reported that officials confiscated $2 million worth of illegal elephant ivory from just two New York City stores in 2012. 
Image Credit: AP
The world's elephant population dropped from 1.2 million in 1980 to 420,000 in 2012, according to conservationist group 96 Elephants. Roughly 35,000 elephants are poached and killed each year. Central African forest elephants decreased by 65% from 2002 to 2013, while 66% of Tanzania's elephant population was wiped out from 2009 to 2013. CNN estimates that if present rates of decimating elephants continue, within ten years the world's elephants will be extinct.
A recent surge in ivory prices: In the U.S., ivory is priced at around $1,500 a pound, according to the Daily Beast. Because it's become such a lucrative business, poachers deploy sophisticated tactics like GPS trackers, night vision goggles and helicopters to locate and then brutalize the animal by removing its tusks.
Image Credit: 96 Elephants
During the Africa-U.S. summit in early August, African leaders asked the United States to supply equally sophisticated gear to prevent illegal poaching. "Namibia asked for light attack helicopters, Tanzania for night-vision goggles, Togo for infrared scanners to use at its port," reported NPR.
Reigning ivory markets: Even though China is the top market for ivory, the U.S. ranks a surprising second. Both countries bypass international bans through illegal trafficking, which constitutes the fourth-largest transnational crime in the world, according to 96 Elephants.
A booming industry gives American markets all the motivation they needs to sustain a black market for ivory. Between 2009 and 2012, almost 8,000 ivory carvings and nearly 4,000 tusks were illegally brought into the U.S., according to Yale Environment 360. Crime syndicates run the poaching industry in Africa, and as long as members know that ivory will fetch high prices in the U.S., the slaughter of elephants will continue.
Image Credit: 96 Elephants
A troubled past: Between 1970 and 1985, elephants were massacred at such alarming rates that the population was cut in half. The United Nations Convention on International Trade in Endangered Species instituted an international ban on the ivory trade in 1989, which temporarily led to a decline in poaching.
Image Credit: 96 Elephants
But by the end of the '90s, the ban was swept under the rug. Gigantic "one-off" sales of ivory in 1999, 2002 and 2008 weakened the ban's foundation, increased ivory prices overall and created larger demand in commercial markets, reported the Daily Beast.  
What needs to be done? Thankfully, the U.S. is still working to curb elephant poaching and the ivory trade stateside. On Aug. 5 New Jersery Governor Chris Christie signed a bill banning in-state ivory sales. New Jersey has long been a main gateway for ivory into America's largest ivory market, New York City (New York state is expected to approve similar legislation soon).
Back in February, the Obama administration implemented tight restrictions on commercial ivory imports and limited African sport hunters to permitting only two dead elephants (and their tusks) into the country for each person.
Despite these efforts in Congress and at the state level, experts say that "ivory in the U.S. is largely unmonitored, and the laws regulating it are antiquated, confusing and shot through with loopholes. In addition, the agencies tasked with enforcing these laws are underfunded and chronically short-staffed," reported Yale Environment 360.
There's only one real solution: End the ivory trade across the world and increase protection for wild elephants. Campaigns like 96 Elephants help raise awareness of the cause and urge the U.S. to institute effective moratorium laws. 
96 Elephants, named for the 96 elephants killed every day from poaching, promotes elephant conservation by funding high-tech protective tools and offering increased on-the-ground protection for the animals. Their site suggests ways to get involved, like their advocacy toolkit with pre-written Tweets using the hashtag #96elephants, Facebook messages and shareable email campaigns. 
With these terrifying numbers about elephants' long-term survival prospects, eradicating the ivory trade is really our only option. 
To find out more information about how to combat poaching and how to do your part to help save the world's elephants, check out 96 Elephants. 
h/t CNN