Actor Robin Williams Dead in Apparent Suicide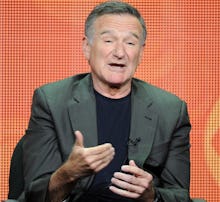 Beloved actor and comedian Robin Williams was found dead in his home in Tiburon, Calif. on Monday. He was 63.
The Coroner Divisions of the Marin Country Sheriff's Office said in a statement that the cause of death is believed to be suicide by asphyxiation. "A comprehensive investigation must be completed before a final determination is made," the coroner's office said in a statement.
Investigation into Death of Actor Robin Williams
Need help? In the U.S., call 1-800-273-8255 for the National Suicide Prevention Lifeline.