3 Hilarious Robin Williams Stand-Up Specials That Showcase His Genius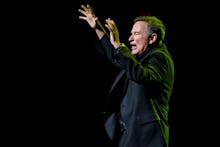 Robin Williams made his mark on so many forms of popular entertainment, it's hard to celebrate him for just one. From Oscar-winning movies, to long-running TV shows, from animated family films to hard, realistic drama, his talents ran the gamut and brought joy to everyone who watched. But his characteristic magnetism was best on display in his stand-up comedy. 
Williams began his comedy career in the mid-'70s. After graduating from Julliard, he moved to San Francisco to become a dramatic actor. When the work didn't come he turned to stand-up. According to the Hollywood Reporter, he later moved to L.A. where he became a popular fixture at open-mic nights and would go on to score guest appearances on The Richard Pryor Show and his big break, Happy Days.
As his film and television career blossomed, he never neglected his stand up comedy. Over the years he released several solo specials, including Robin Williams: Off the Wall (1978), An Evening with Robin Williams (1982), Robin Williams: Live at the Met (1986), Robin Williams: Live on Broadway (2002) and Weapons of Self-Destruction (2009). Besides his super-human like physicality and unbelievable ability to improvise and free associate, Robin Williams proved time and again his mastery of genius concepts and strikingly relatable observations. But telling you how great of a comedian he was can only do so much. You really must watch for yourself.
Live at the Roxy (1978)
An Evening with Robin Williams (1982)
Weapons of Self Destruction (2009)
Need help? In the U.S., call 1-800-273-8255 for the National Suicide Prevention Lifeline.