Days After Michael Brown's Death, Ferguson Looks Like a War Zone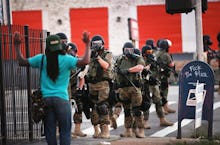 A vigil held for Michael Brown, an unarmed black teenager gunned down by Ferguson, Mo., police on Saturday in disputed circumstances, turned into what the media described as a riot on Monday evening.
But while national coverage has focused on the indisputably counterproductive violence and destruction committed by Ferguson residents during a moment of anguish, videos and photos taken from the scene show local police aggravating the situation as well.
Monday's riots didn't happen in a vacuum. The Los Angeles Times reports that 48 of the department's 53 officers are white, while 65% of Ferguson is black. Racial profiling statistics from the Missouri Attorney General's office reveal the community is subject to disproportionate police action on everything from traffic stops and searches to contraband seizures and arrests.
The conflict on Monday wasn't just about Brown, but also the result of years of racial tension given a sudden shove. Likewise, tweets, videos and images from the scene on the ground demonstrate that the authorities in Ferguson did their part maintaining an atmosphere of mutual hostility.
This video caught by CNN shows a white officer telling Ferguson residents to "bring it, all you fucking animals":
Other tweets by locals demonstrate how Ferguson police resorted to heavy-handed tactics that helped escalate peaceful protests into a full-blown riot:
Meanwhile in Ferguson https://t.co/8FDdiNqWtm https://t.co/p9Xc8TuTGh
One video shot by St. Louis alderman Antonio French appears to show him being threatened by armed police:
Others show how the anger in Ferguson stemmed from deeper issues of power and oppression, as opposed to just one incident.
While the media is focusing on the violent actions of Monday night, Ferguson community members have also taken action in peaceful ways that aren't getting nearly as much coverage.
There's no denying that something turned ugly in Ferguson on Sunday. But what's absolutely clear is the authorities played a role in making that happen, both on the night itself and through years of racially-tinged policing.