The Next 'Gangnam Style' Is Here, and It's About to Take America by Storm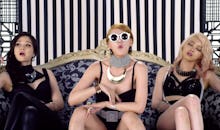 PSY's infamous "Gangnam Style" became the first video ever to break one billion views on YouTube. In the process, it introduced the world to a whole new genre: K-pop. But there's way more to K-pop than PSY's goofing off — just ask SPICA, a K-pop girl group who are taking their first crack at the American charts with their debut English song.
The ladies of SPICA are known for being some of the most talented singers in the Korean pop scene (lead vocalist Kim Boa was actually a voice coach before forming her own band), and they shine on the empowering "I Did It." But this song has bigger ambitions than just breaking K-pop into America. With an ecstatic chorus of "I did it, yes, I did it, I set myself free," these five Asian women are tearing down the stereotypes of meekness and submissiveness they so often face.
SPICA, named for the brightest star in the Virgo constellation, has been well established in Korea for a few years now; they were in the top 10 of the K-pop top 100 last year, and "Painkiller," a sexy, brooding ballad about lost love, ranked as one of the best 20 K-pop songs of 2012 over at Billboard.
They're setting their sights much higher now. It's notoriously difficult to cross over into the American market, but SPICA might be the first to truly capitalize on the growing vogue for K-pop. The Korean language is growing in global popularity thanks to the immense success of Korean dramas, with more people wanting to learn the language. Earlier this year, BuzzFeed even explained why Korean pop is better than American pop, citing superior catchiness, gender fluidity and incredible dancing.
SPICA mixes all that with a sound deeply rooted in the '90s: Their brand of fierce girl power is a callback to R&B favorites like Destiny's Child and TLC. They even know the right people — the band boasts production from Cory Enemy, Oliver Goldstein and Daniel Merlot, some of whom have worked with the likes of Britney Spears and Shakira.
"We hope to get a lot of support for the new song. We are looking forward to launching our first single and music video in America and are so excited to meet new fans," the group said in a statement. If their heartfelt reception at K-Con (like Coachella for K-pop) this week in Los Angeles is any indication, the group is destined for big things.
And that matters. Although "Gangnam Style" shattered records, the song's popularity was not without its problems. As media outlets like Racialicious pointed out, PSY's rise came in part because he indulged a lot of Western stereotypes that encourage us to think less of Asian men. If SPICA can truly cross over into mainstream culture, they will not only be inspiring women with their feel-good lyrics, but also showing young Asian girls that they are worthy of representation — that they should see themselves positively reflected in the media and that they are truly capable of being whomever they want to be.