55 Years Later, an Illinois High School Has Rectified a Civil Rights Wrong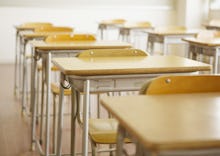 The news: In 1959, Alva Earley's high school denied him something that he had every right to: his diploma. On Friday, 55 years later, Early finally got what he deserved.
Earley had been barred from graduating for actively shunning the segregationist policy of Galesburg, Ill. Despite warnings from a school administrator, Earley, armed with a pot of baked beans, attended an NAACP picnic in a park that unofficially banned African Americans and Hispanics.
Just days later, the Chicago Tribune reports, the school prohibited him from graduating and two colleges rescinded their acceptances despite his good grades. "They tried to destroy my future over a picnic and pot of beans," Earley told the Tribune.
Image Credit: Getty via BET
He made sure they didn't succeed, later graduating from the University of Illinois and obtaining both a law degree and a doctorate of divinity. It wasn't until his 50-year college reunion last fall that his classmates, one of whom had attended high school with him, discovered the reason he hadn't graduated.
With their help, Earley was finally awarded his diploma, wearing his old college robes.
This wasn't that unheard of back then. In 2003, Prince Edward County, Va. — better known as the place where Brown v. Board of Education got its start — awarded honorary high school diplomas to students who couldn't finish their education due to segregation.
Image Credit: Getty
... or today, for that matter. Some schools still don't seem to get the massive injustice of segregation. Wilcox County High School in Georgia, for example, held its first ever integrated prom in 2013, after sponsoring racially segregated dances before that.
In 2007, Galesburg High School — the same place from which Earley just received his diploma — barred five students from graduating because of loud cheering from friends and family during the ceremony. The incident came with accusations of racism because four of the students were black and one was Hispanic; white students, reported the New York Times, also received cheers, though none were disciplined.
But Earley's diploma is a good sign. It may have happened 55 years late, but at least it came and Earley's pride makes it clear that he's happy with the outcome. It's an example of something very, very wrong finally being made right and that's something to feel good about.
"The important thing was not that I got the diploma," he told NPR. "It was that they tried to get me a diploma. They succeeded. They cared about me." 
h/t the Chicago Tribune