The Family of the Real Life 'Aunt Jemima' Is Out for Justice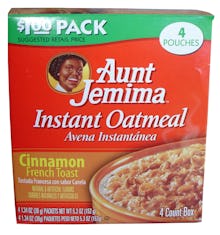 You could call this the sweetest of reparations.
The family of the woman known throughout the last century as "Aunt Jemima" is suing PepsiCo, the Quaker Oats Company, Pinnacle Foods Group and the Hillshire Brands Company for using her image without adequate compensation.
Anna Short Harrington became the face of the eponymous pancake mix in 1935. Quaker Oats used her recipes as the basis of their own mass-produced pancake mix and related Aunt-Jemima brands, including its popular maple syrup, according to the Chicago Tribune. According to CNN Money, Quaker Oats trademarked her likeness two years later.
Image Credit: Flickr
When Harrington died in 1955, Quaker Oats was listed as her employer, but the company denied that she was their employee. Now her great-grandson, D.W. Hunter, has filed a class action suit on behalf of her and her family against Quaker Oats' parent companies. In addition to $2 billion in compensation for using Harrington's likeness and image, Hunter is also seeking punitive damages for racial exploitation.
Indeed, Aunt Jemima was far more than just a branded food franchise. For years, her likeness was a pop culture phenomenon used to champion a very specific image of the "happy" former slave and the Southern way of life. Aunt Jemima "sang songs, cooked pancakes and told romanticized stories about the Old South as a happy place for blacks and whites," notes the Jim Crow Museum of Racist Memorabilia.
The 108-page complaint, filed by Hunter on Aug. 5 in the U.S. District Court for the Northern District of Illinois, specifically calls out alleged discrimination by PepsiCo, Pinnacle and Quaker Oats, according to Fortune magazine. The companies were party to repeated instances of "racial discrimination towards Anna S. Harrington's heirs … reflecting an innate form of disrespect towards African-American people."
From the Wrap: "The suit further alleges a racial element to the exploitation of Harrington and the other women who portrayed Aunt Jemima, going so far as to accuse the company of theft in procuring 64 original formulas and 22 menus from Harrington. It further alleges that Harrington was dissuaded from using a lawyer, exploiting her lack of education and age, so that the company could not pay her a percentage of sales from her recipes."
This case speaks to the fact that American culture — not to mention the American economy — has thrived off the bodies it least respects. If Harrington's family wins its suit, it may open avenues for other racially and sexually exploited individuals to seek compensation for their labor, which should never come for free.