Intense Photos Capture the Devastating Flooding in Detroit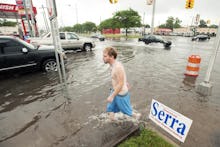 The news: Part of metropolitan Detroit is in a total state of emergency, and barely anyone is paying attention.
Thunderstorms on Monday flooded major sections of the suburb of Warren, just miles from downtown Detroit. It's pretty bad — in some places the water reached five feet high, while Warren Mayor Jim Fouts told WWJ Newsradio 950 that 1,000 cars had been abandoned to floodwater. Thousands of residents, as well as the city hall and police department, have flooded basements. One person has died and hundreds of others have been rescued by police in canoes.
Fouts has requested the National Guard to step in as well as FEMA funding to assist homeowners, while Warren County declared a state of emergency. Getting in and out of much of metro Detroit remains extremely difficult.
"We are absolutely overwhelmed," he told USA Today. "We've got police, fire, sanitation, DPW, waste treatment — anybody who wants to work overtime, can. We're working round the clock. This is probably a 200-year rain. I've never seen anything like this."
What it looked like on the ground: Images, video and tweets from Warren show how big the disaster was. If any other major American city had been hit this hard, it would be one of the day's biggest stories — but cable networks barely mentioned it, devoting just a handful of segments.
Image Credit: AP
Image Credit: AP
Image Credit: Getty
Image Credit: AP
Image Credit: AP
Image Credit: AP
Why is it happening? Mashable reports that the 4.57 inches of rain that fell on Warren in just a few hours made Monday the second-wettest day in 140 years of Detroit records. This led to flash floods, which have been seen in the Northwest over the past 30-50 years and can partially be attributed to climate change. A hotter globe is also a wetter one and a warming Arctic is expected to contribute to many more extreme weather events in general.
Detroit is also poorly prepared for global warming. The city has foregone billions of dollars in needed sewer upgrades thanks to its slide into bankruptcy, while a Great Lakes Integrated Sciences Assessments report from 2012 warned that higher precipitation may exacerbate "existing vulnerabilities of flooding, water contamination and infrastructure damage." Another report from the National Resources Defense Council projected nearly 18,000 additional heat-related deaths by the end of the decade, ranking only behind Louisville, Ky.
The city is going through some tough times, but a national perception that Detroit is dead and its public institutions beyond saving has led most of the country to ignore its struggles. The lack of attention now is a worrying sign.