Undercover Audio Reveals the Horrifying Tactics of Texas Abortion Protesters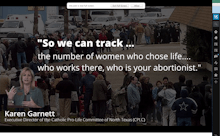 Tracking license plates, walking picket lines, harassing employees and misleading patients — anti-choice protesters have a plethora of tactics for accomplishing their No. 1 goal: eradicating abortion in America.
Just how far these advocates are willing to go was highlighted in undercover audio secretly recorded from a mass training session of Texas pro-life abortion protesters and released by Progress Texas this week.
Only six clinics in the entire state now provide abortions, in part because of the persistence of the Texas pro-life movement. Feministing's Maya Dusenbery explains that the closure of these clinics suggests a rise in illegal, even back-alley, abortions, given the inaccessibility of the procedure to women in a very large state.
"The number of Texans living more than 200 miles from a provider has increased nearly 30-fold over the past year, from 10,000 to 290,000," said Dusenberry, "and researchers predict that some women are also traveling out of state or turning to potentially risky self-induced abortions to get the care that Texas is denying them."
The pro-life argument used to buttress the Supreme Court's recent McCullen v. Coakley decision concerning so-called "buffer zones" around clinics asserted that protesters do not harass women as they enter a clinic, but serve as "sidewalk counselors" whose free speech to offer such passive counseling services should not be impeded from those who might be interested their unsolicited words.
But this recording shows that their tactics are anything but peaceful. In addition to "tracking license plates" in order to intimidate both patients and doctors, Karen Garnett, the executive director of the Catholic Pro-Life Committee of North Texas, advocates taking down the physical descriptions of both "abortionists" and patients and entering this information into their "sophisticated spreadsheet" in order to continue the harassment of these individuals outside of the clinic.
Eileen Romano, of the pro-choice organization 40 Days for Life, applauds the fact that they have successfully deterred poor women from using clinics — these poor women who, of course, would find other, unsafe ways to afford abortion.
"What's most telling, I think, is that the training this audio came out of was called something like 'Keeping Abortion Clinics Closed,'" Heather Busby, the executive director of NARAL Pro-Choice Texas, told ThinkProgress. "It wasn't called, you know, 'Bringing Safe Options to Women.' It wasn't called 'Helping Women Stay Healthy and Safe.' It was about closing abortion clinics, and they said it! They put it right out there."
These protesters, in other words, are anything but sidewalk counselors:
"There's been a misconception that these are just sweet little grannies, praying outside the clinic and just wanting to talk to women about their options," Busby told ThinkProgress. "This video really illustrates and drive home the point that this isn't just about sitting outside a clinic and praying the rosary. This is about tracking and stalking and doing whatever you can to turn people away from a clinic — to intimidate them, to be a constant presence and to keep women from accessing safe and legal abortion care."
Image Credits (all): YouTube