One State's Voters Want Jeff Bridges to Run for Office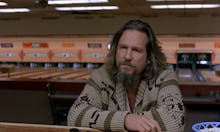 Can you get a good White Russian on the campaign trail?
Democrats in Montana need a senatorial candidate, and a group of activists has an outside-the-box option: Jeff Bridges, a resident of Park County, Mont., for decades. They've drawn up a Change.org petition and everything.
"He has great name recognition! Charisma! Brains!" writes Lizbeth Pratt, who started the petition. "He's internationally renowned, but he is also highly accessible. We need the Dude to be Montana's next U.S. senator!"
In an interview with the Bozeman Daily Chronicle, Pratt added perhaps the best reason to support him. "He is the bullet-proof candidate," she said. "He's the only candidate where you could post photos of him naked, smoking pot, and it wouldn't affect him."
Only one problem: The Dude doesn't abide.
Bridges addressed the push during an appearance on Howard Stern's radio show Monday, according to the Wire. Bridges said his wife had one thought on the matter: "Don't even think about it."
Still, it wouldn't be the first time a candidate has claimed to not be running for office before eventually accepting the job. Hell, denying interest in the position basically used to be a requirement for serving as president. Maybe there'll be plenty of bowling fundraisers after all.
Image Credit: Imgur
What are the Dems turning? Democrats thought they had a pretty good chance of winning with John Walsh, who currently holds the seat. But Walsh's campaign was sunk by the revelation that he plagiarized much of his 2007 thesis at the United States Army War College.
Walsh announced earlier this month that he would not be continuing the race. It left Democrats in a bind, and with projections pointing to a Republican electoral advantage in November, every seat counts if they want to maintain their slim Senate majority.
The Missoulian highlights a few potential non-Hollywood replacements, including State Rep. Amanda Curtis and rancher Dirk Adams. The Republican candidate, Rep. Steve Daines, was already beating Walsh by about 10 points before the plagiarism news broke, meaning it would be even more of an uphill climb for a lesser-known candidate.
So maybe Pratt and the other activists are right, and the Dude really is their best hope. After all, another Montana Democrat would really tie the Senate together.