A Dad Has the Perfect Response to His Sons Who Want to Play 'Call of Duty'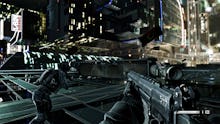 They wanted to play a Call of Duty game. So he took them to a real war zone.
Carl-Magnus Helgegren, a Swedish dad, took the unusual step when his two sons, Frank and Leo, told him last year they wanted to play Call of Duty: Ghosts. According to the Daily Dot, he took the then 9- and 10-year-olds on a trip to Jerusalem to learn more about war before deciding whether they wanted to play the game.
"As soon as they're in a first-person shooter game and they're firing a weapon — and really the game is for an audience that is 16 years old — I think that I owe it to them to explain reality, before they play it," he told the Daily Dot, adding that he was no stranger to shooter games, having played Doom, Wolfenstein and even the earlier, World War II-inspired Call of Duty games.
The plan: Helgegren had been to the Middle East in 2009, when his freelance photography job brought him to Palestine. He ended up under fire from Israeli troops.
In April, he took his kids to Jerusalem. They met with Israeli soldiers and even visited a refugee camp; he wrote about the experience for Filter, a Swedish magazine.
In the end, after learning about how war had touched the lives of those who took part, Helgegren's sons decided against buying Call of Duty: Ghosts.
"They just looked at each other and said, 'No, we don't want to play them anymore,'" Helgegren told the Daily Dot. "What Frank said to me, he said, 'Now that we've seen all of this, it would feel very strange to say 'Yes.'"
Twisted realism: One of the warning signs, Helgegren said, was when it became clear how much his sons knew about military-grade weaponry just by playing and anticipating video games.
Some games are totally devoted to getting the tools of war correct, with publishers even cooperating with real gun manufacturers to get their products in games. It's not enough to wage virtual war — apparently we also require replicas of real guns to do it.
Not only have gun companies been consulted, but military and former military personnel occasionally act as advisers to the games. If you've been a gamer, you know this kind of attention to detail doesn't often make its way to other facets of the gaming experience.
There is nothing inherently wrong with a violent video game, any more than there is with a violent movie or a violent book. The issue, as Helgegren understands, comes when that violence is routinely devoid of the weight it deserves. Call of Duty's guns may be hyperrealistic, but its treatment of violence is simple enough to appeal to 9- and 10-year-olds.
There are games that earn their violence — Spec Ops: The Line and The Last Of Us are brutal, but they never let you forget the actual toll of the carnage you're creating. Other games, especially independent ones, are kicking ass without needing to kick ass.
Call of Duty isn't the worst thing in the world, but a few more great games that focus on empathy above totally accurate rifle branding might just make it obsolete.