This Is the First Active College Football to Come Out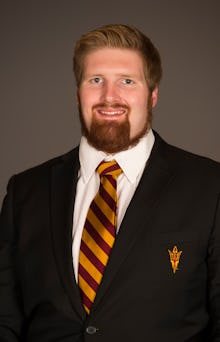 The news: If you needed any further proof of why public representation of diversity matters, look no further than Edward "Chip" Sarafin.
Image Credit: AP
Months after Missouri linebacker Michael Sam became the first openly gay football player to be drafted into the NFL, Sarafin has become the first active college football player to publicly come out. The Arizona State offensive lineman has not actually played in a game yet, but said that he informed his teammates of his sexuality so that they could find out straight from him and not from the college rumor mill.
"It was really personal for me, and it benefited my peace of mind greatly," Sarafin said in this month's issue of Compete magazine, a Phoenix publication that focuses on LGBT sports.
The school's athletic department has since publicly rallied around him. "We are a brotherhood that is not defined by cultural and personal differences, but rather an individual's commitment to the Sun Devil Way," ASU coach Todd Graham said in a statement.
"Chip is a fifth-year senior and a Scholar Baller, a graduate and a master's student. His commitment to service is unmatched and it is clear he is on his way to leading a successful life after his playing career, a goal that I have for every student-athlete. Diversity and acceptance are two of the pillars of our program, and he has full support from his teammates and the coaching staff," Graham said.
This is huge for college football and beyond. Though Sarafin has not commented on whether he was inspired by Sam's coming out — and his eventual, successful drafting by the NFL's St. Louis Rams — it's clear that Sam has paved the way for young LGBT athletes. Still, Sarafin is making history in his own way: While Sam came out at the conclusion of his collegiate football career, Sarafin has done so at the outset of his own.
Sarafin's brave decision has earned a shout-out from Sam himself:
As a walk-on, Sarafin could very well end up not playing a single game in his college football career; still, his announcement may make it easier for the next time a young athlete is struggling with the decision to publicly come out, and that's a huge achievement in and of itself.
h/t USA Today