12 Games You Need to Watch During the Upcoming NBA Season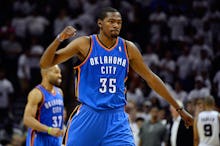 They say that failing to plan is planning to fail. With the NBA having unveiled the schedule for the 2014-15 season on Wednesday night, it's not too early to start marking your calendars for what — at least for now — should be the most intriguing matchups of the year.
1. Mavericks at Spurs, Oct. 28
This intrastate showdown gets the regular season started with a bang. These two clubs could not be more different; Dallas essentially turned over its roster and the Spurs returning nearly their entire championship team. Will this be the beginning of the farewell tour for Tony Parker, Manu Ginobli and Tim Duncan?
Image Credit: AP
2. Knicks at Cavaliers, Oct. 30
The NBA's latest (greatest?) "Big Three" make their debut at home as Cleveland's trio of Kyrie Irving, Kevin Love and LeBron James host New York. After losing enough games to earn three of the last four No. 1 overall draft picks, the LeBron Era 2.0 begins in earnest with the Cavs opening as NBA title favorites.
Image Credit: Getty
3. Timberwolves vs. Rockets (in Mexico City), Nov. 11
After last year's scheduled game in Mexico City was cancelled due to a fire in the arena, the NBA takes a second shot at a game south of the border. This event is crucial as the NBA continues to fuel the international growth of basketball.
Image Credit: AP
4. Cavaliers at Thunder, Dec. 11
What's better than a mid-season battle between the previous two Most Valuable Players? By this point in the season the Cavs should have learned to play together, while the Thunder ride their own touted triumvirate of Kevin Durant, Russell Westbrook and Serge Ibaka. For two teams that have legitimate NBA Finals aspirations, this matchup will be key in proving who has what it really takes to win it all.
Image Credit: Getty
5-9. The Christmas Day quintupleheader, Dec. 25
Christmas Day has always offered a bevy of the NBA's biggest match-ups and this year is no different. The centerpiece is LeBron's first return to South Beach since departing Miami for Cleveland (5 p.m. ET, ABC), but the marathon also includes Wizards-Knicks (12 p.m. ET, ESPN), Thunder-Spurs (2:30 p.m. ET, ABC), Lakers-Bulls (8 p.m. ET, TBS) and Warriors-Clippers (10:30 p.m. ET, TBS).
Image Credit: Getty
10. Bulls at Lakers, Jan. 29
Pau Gasol returns to the Staples Center for the first time since departing the Lakers in the off season, ending a six-and-a-half-year run that included three All-Star appearances and two NBA titles. Will Kobe have L.A. in playoff contention or will the Lakers be in danger of missing the playoffs in consecutive seasons for just the second time ever?
Image Credit: Getty
11. Spurs at Trail Blazers, Feb. 25
Believe it or not, Portland is for real. Damian Lillard proved in last year's playoffs that he can be unstoppable when given the opportunity. If the Blazers can build off of last season's success, a win over the defending champs may become the moment they turn the corner from upstart to bona fide contender.
Image Credit: Getty
12. Bulls at Cavaliers, Apr. 5
Chicago and Cleveland are the two best teams in the Eastern Conference. As both jockey for playoff seeding in the regular season's final weeks, this game could prove crucial. Will Derrick Rose be healthy? Are the Cavs simply too good at this point? This late-season tilt could answer many of those questions as the postseason looms.
Image Credit: AP