Here's Every State's Favorite TV Show to Illegally Download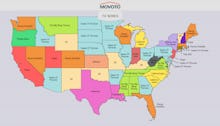 Torrenting content may be illegal in some cases, but that hasn't stopped millions of Americans — especially East and West coasters — from downloading copyrighted TV shows, movies and games like mad.
A team of researchers at real estate blog Movoto took a look at America's torrenting habits and parsed the data into state-by-state maps. The maps show where torrent users are downloading media. In a torrent file-sharing network, users get small chunks of files from a variety of web sources at once, allowing them to be transferred quickly and at no cost to the user.
The research: Analyzing just the top 100 most popular torrents demonstrates that more than one million people are distributing copyrighted material on any given day. During their month-long study, the researchers collected data from almost four million file-sharing users and three million unique IP addresses, or devices participating in a computer network.
However, because the researchers focused on seeders (computers that have downloaded a piece of content) rather than leechers (downloaders), the maps may be showing where the inventory of files are located instead of the location of the people doing the downloading. Nevertheless, it paints about as accurate of a picture of this type of thing as you might reasonably expect without an incredibly thorough and arguably impossible experiment (it is an illegal activity, after all)
Overall Torrenting By State:
One state out-shot the rest, at least in terms of the sheer amount of copyrighted movies, shows and games they consumed: Florida. Ironically for the sunshine state, an average of seven per 10,000 people stay indoors to share and download media each day. 
Movoto also looked at the most-downloaded film, game and TV show in each state.
Most Popular Torrented TV Show By State:
Nationwide, Game of Thrones was the most-desired TV show (no surprises there), with the exception of a chunk of Midwestern states partaking in the fantastical, blood spewing incest-fest. Oklahoman torrenters apparently preferred 24, while a dash of East and West coasters watched Penny Dreadful instead.
Most Popular Torrented Movie By State:
Captain America won out as the most popular movie in Michigan, Pennsylvania and Wisconsin, and Washington, South Dakota and Ohio showed some love for Neighbors, the Seth Rogen- Zac Efron comedy about a young couple suffering from arrested development.
Most Popular Torrented Game By State:
Across a narrow strip of the country from California to New York, for example, most torrenting gamers downloaded or shared "Watch Dogs" (aside from Nevada, where users preferred "Rise of the Nations").
Image Credit (All): Movoto