A Photographer Showcases the 98 Kinds of Real Beauty You Won't See in Magazines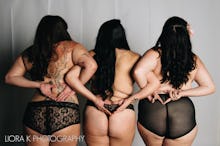 "She wins who calls herself beautiful and challenges the world to change to truly see her," said Naomi Wolf in The Beauty Myth in 1990. Since then, we haven't seen much of a change in the way women are viewed. Thinness, whiteness, youth and able-bodiedness exemplify the majority of representations of women that we see in media.
Ladies, could you picture yourself displayed 14 feet high by 48 feet wide, swathed in beautiful designer clothing? Because most women will never see their body represented on billboards or in television commercials. As women, many of us live in a world where our bodies are constantly under scrutiny, while we are inundated with pictures of women whose job it is to be one kind of beautiful. That's why body-positive blogger and activist Jes Baker teamed up with photographer Liora K to showcase women's bodies in a way we rarely get to see them — unabashedly real, and without Photoshop. Really.
"When was the last time you saw an image of breasts that looked just like yours?" Baker asked in a blog post introducing her new series. "An ass that looked just like yours? Scars that looked just like yours? A belly that looked just like yours?"
The two women used Facebook to recruit 96 different beautiful bodies. The result is the Expose Project. Says Baker:
We all know that what we see in the media isn't the whole story. It's not representative of all of us. And because of what we see (or rather DON'T see), we start to believe that we are the only one with our particular stretch marks. Our uneven boobs. Our scarred legs. Our asymmetrical nipples. Our belly shape. Our body hair. Our what-ever-it-is-that-you-don't-see-on-display-any-where-else... Rarely do we see our beautiful and complex combination of body parts that makes us magnificent.
Amid a growing number of body-positive projects out there, Baker and Liora K's photos are remarkable in their scope and diversity, not to mention the unmistakable pride the subjects took in the process. In today's culture, the dual phenomena of body-shaming in general and fat-shaming in particular draw their power from their ability to demean, disparage and disrespect. Projects like these take that power away, proving that you don't have to buy into traditional beauty standards to feel happy, or to take pride in your body. 
"So much of the female body that we see is pushed up," the website reads. "Pinned down. Sucked in, tucked in and airbrushed. Its only presentable state is when it's altered, and so when we look at ourselves in the mirror (naked, untucked and vulnerable), we say, 'My body must be wrong.'"
That isn't to say that the woman featured below are oblivious to societal pressures either. Gillian Drummond wrote about her experience taking part in the shoot for 3 Story Magazine. "I was in awe of the women who strode up there all ready to roll — grinning, posing, provocative, strong," she writes. "The few hours I spent there were electric and empowering and funny and sincere and loving and sore and very, very emotional."
Ultimately, many women loved their photos; others, not so much. And that's OK. Drummond admitted that while she liked her photos, the experience left her "exhausted, emotionally spent." And she can't wait to do it again.
Baker told Mic in an email that they were only able to use the models who had come forward, but that she hopes to expand the project next year to include as many body types and personalities as possible. Adds Baker, "We're hoping in our next shoots to have transgender bodies as well!"
The full shoot can be viewed at the Expose Project website, but we've included many of the portraits below. As a warning: some of these photos may be NSFW.
Image Credit (all): Liora K