23 Powerful Photos Capture the Nation's Support for Ferguson's Citizens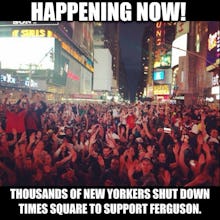 The news: Americans rallied across the nation on Thursday night to show powerful support for the town of Ferguson, Mo., through a National Moment of Silence For Victims of Police Violence.
The senseless death-by-cop of 18-year-old black teenager Michael Brown on Saturday and widespread skepticism that the shooting was justifiable triggered a wave of community and police violence. But as the week went on, much of the nation watched with horror as heavily-armed tactical police units pointed firearms at civilians, reporters were assaulted and arrested without charges, and local authorities tear-gassed protesters and the media.
Inspired by Twitter user Feminista Jones to "remember the forgotten, ignored, killed, and abused," activists nationwide created #NMOS14 in solidarity with the citizens of Ferguson and Mike Brown. Here are some of the most poignant images and videos from #NMOS14:
1. New York, N.Y.
2. Denver, Colo.
3. New York, N.Y.
4. Oakland, Mo.
5. St. Louis, Mo.
6. Orlando, Fla.
7. Boston, Mass.
8. Chicago, Ill.
9. Philadelphia, Pa.
10. London, England
11. Washington, D.C.
12. Chicago, Ill.
13. Birmingham, Ala.
14. Detroit, Mich.
15. Chicago, Ill.
16. Washington, D.C.
17. Louisville, Ky.
Image credit: #NMOS2014 Louisville, Facebook
18. Atlanta, Ga.
19. New York, N.Y.
20. Times Square, New York, N.Y.
21. Los Angeles, Calif.
22. Pittsburgh, Pa.
23. And finally, this tearjerker, which really says it all: