There's One Disturbing Factor That Causes Cops to Use Force Against Protesters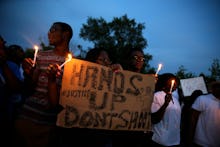 The number of African-Americans involved. Police are more likely to deploy against African-American protesters than white ones, according to a 2011 study published in the American Sociological Review. And as Washington Post columnist Kim Yi Dionne keenly points out, the massive police crackdown on the mostly black community of Ferguson, Mo., is a prime example.
In sampling over 15,000 protests from 1960-1990, researchers discovered that police were more likely to arrest people, use force or both when black protesters were involved. While the disparity in the use-of-force has lessened since 1970, the researchers emphasize that the effect of "protesting while black" varies over time, but does not disappear.
It's hard to argue that this is not a pattern of overt and systemic mistreatment.
Just look at Ferguson: This is happening in Missouri right now.
The study doesn't prove police arrive to beat up black people, but it demonstrates they're more likely to consider protests involving them as threats to public order. What's more, the tactics police use can easily anger or provoke the crowd, and therefore create the perfect opportunity for authorities to justify force.
In Ferguson, media and community members said that police crackdowns on protests preceded and helped trigger the breakdown of order across the community.
As policing expert Jason Fritz told Vox, "Trying to intimidate the crowds off the street, especially considering that it's a protest against police aggression — well, it's just stupid. It's going to exacerbate the problem."
He suspects there's an additional reason that cops reacted so violently in Ferguson: The billions of dollars in high-grade military hardware the Pentagon has handed out to American police departments. "They have the toys, and they just want to play with them, to put it bluntly," Fritz said to Vox.
Finally, besides the terrifying implications of bringing military hardware to bear on protesters, less-lethal weapons like rubber bullets, tear gas and batons are still instruments of harm that can cause horrible injuries. Black Americans are disproportionately more likely to have these weapons brought to bear on them.
Why you should care: If you're wondering why this still occasionally happens ...
... remember that it has a lot to do with an entrenched legacy of police brutality against and repression of black Americans.
h/t the Washington Post