In Response to Ferguson, Congress May Actually Do Something Right for Once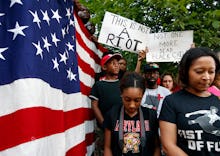 The news: News of armor-clad, gun-toting police suppressing protesters in Ferguson, Mo., has reached Washington, D.C. In response, some Democrats have already decided to cut off the flow of surplus military gear from the Pentagon to local police departments across the country.
Politico reports that Rep. Hank Johnson's (D-Ga.) Stop Militarizing Law Enforcement Act will be proposed to Congress next month. Johnson said that the bill will "end the free transfers of certain aggressive military equipment to local law enforcement and ensure that all equipment can be accounted for."
"Our main streets should be a place for business, families, and relaxation, not tanks and M16s," Johnson wrote in a letter to Congress, according to the Hill. "Unfortunately, due to a Department of Defense (DoD) Program that transfers surplus DoD equipment to state and local law enforcement, our local police are quickly beginning to resemble paramilitary forces."
The background: In Ferguson, scenes of SWAT teams looking like they were about to charge into Baghdad and spraying mostly peaceful protesters with rubber bullets and tear gas have drawn both national condemnation and bipartisan concern. At the core of the problem are the DoD's 1033 program, which has given over $4 billion in free surplus military equipment to local police since 1997, and Department of Homeland Security terrorism grants that the Daily Beast claims subsidized $34 billion in law enforcement arms purchases between 2001 and 2011.
Police departments have received everything from MRAPS (explosion-resistant personnel carriers) and assault rifles to camouflage uniforms and military-grade personal armor. As a result, many police departments look a lot like Ferguson's, pictured here:
Image Credit: AP
Image Credit: AP
Image Credit: AP
Originally designed to counter terrorism, the programs mostly encourage cops to use powerful military hardware as often as possible in their day-to-day work. The New York Times notes that police are actually required to use 1033 equipment within a year of receiving it. The ACLU argues that SWAT teams originally organized to handle hostage situations, bank robberies and shootouts are now being used for hyper-aggressive drug raids and to suppress protests. One study found that SWAT teams were deployed 45,000 times in 2005, up from an annual rate of around 3,000 in the 1980s.
Will it pass? Johnson's bill will draw support from staunch Democrats like Sen. Claire McCaskill (D-Mo.), who argued on Thursday for police demilitarization and new approaches to policing. Some Republicans are paying attention as well.
Sen. Rand Paul (R-Ky.) wrote this week in TIME that police militarization is big government at its worst and already presents a "near-crisis." And Rep. Justin Amash (R-Mich.) tweeted on Thursday that:
So maybe there's some hope of bipartisan support. But the Stop Militarizing Law Enforcement Act will face some serious hurdles, including a tepid response from other Republicans, strong law-enforcement lobbies and pro-security sentiment among many Democrats.