If You Really Loved the World Cup, You Should Be Watching the Premier League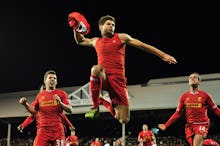 If you were one of the millions of Americans who got caught up in soccer for the first time during the World Cup, you're probably not thrilled by the prospect of waiting around for four years until the 2018 tournament in Russia.
But there's a bigger, faster, nastier and more competitive soccer tournament available on your TV almost every weekend morning, beginning this Saturday and running until the end of May. The world's most popular sports competition, the English Premier League, is back and it's perfect for those who want to sample more soccer after getting a taste this summer. If Swans and Eagles or Toffees and Baggies mean nothing to you now, they will soon. Here are a few reasons why you should tune in.
The perfect way to start the weekend
Although the EPL has some midweek rounds, almost all its games are played on Saturday and Sunday afternoons in the U.K. A 3 p.m. kickoff over there (most of the games start at 3, although there's typically both an early and a late game on Saturday, and a couple of games on Sunday) translates to a 10 a.m. start on the East Coast. That's perfect for dragging the duvet into the lounge for a late breakfast, or starting the weekend early and watching the action in one of a growing number of stateside soccer bars.
You'll even get access to more action than the Brits do. Thanks to a law that prevents 3 p.m. games being shown live (which has similar intentions to the NFL's blackout laws), domestic fans only get four or five televised games per weekend. In the U.S., NBC owns the EPL rights, showing most games on NBCSN and its Premier League Extra Time service, and giving the major clashes prime billing on NBC itself. The network has also brought back Jason Sudeikis for another set of promotional videos sending up the cliche of American attitudes toward soccer.
A seriously competitive league
As opposed to other European leagues, where one or two teams have tended to dominate in recent seasons, the EPL has four or five teams (Chelsea, Liverpool, Arsenal, Manchester United and last year's champions, Manchester City) that are legitimately in the hunt for the title this season, two that aren't far away (Everton and Tottenham Hotspur) and many that regularly give the big boys a bloody nose.
Talent is spread fairly evenly around the big teams, and they each have a slightly different glaring weakness: City's inability to ever really hit top gear, Chelsea's striker problem, Liverpool's wide-open defense, Arsenal's mental fragility and United's lack of a center midfield. And, thanks to the ever-expanding TV-rights revenues that pour into the league, the EPL's smaller fish are spending more cash on players than ever before.
Image Credit: Getty
New arrivals with great narratives
This season comes with a particularly fascinating set of new arrivals to the EPL. The big one is Louis van Gaal, who led the Dutch to the World Cup semifinal, coming in to resurrect Manchester United from the unmitigated disaster that was David Moyes' 10 months in charge after succeeding Sir Alex Ferguson, the most successful coach in English soccer history. If van Gaal and striker Robin van Persie can recreate these kind of scenes from the World Cup, then United fans could be in for a happier season:
From World Cup stars to World Cup flops, Diego Costa, the Brazilian who defected to Spain only to crash out in the group stage this summer, joined Chelsea for $53 million with the task of ending its long-running striker crisis. Whether Costa, who netted 36 times for Atletico Madrid in Spain last season, hits the ground running will go a long way towards determining whether Chelsea can win its first EPL title since 2010.
Keeping up with your USMNT favorites
If meme-tastic goalkeeper Tim Howard impressed you most during the United States' run to the last 16 in Brazil, you may be drawn to rooting for Everton, where Howard has made almost 350 appearances since joining in 2006. Howard's back-up on the U.S. team, Brad Guzan, plays for Aston Villa. Elsewhere, you can follow Jozy Altidore, who is struggling to turn his USMNT form into success at Sunderland, where he has scored just once in 30 EPL games for the Black Cats.
Image Credit: Getty
Rivalries and history to match anything in sports
At times it feels like there's a huge, heated game in the EPL every week. Matchups between local rivals — or "derbies," pronounced "dah-bees," in the U.K. — are the most passionately fought. Expect to see tackles fly and outpourings of joy, despair and everything in between. The North London derby (Arsenal-Tottenham), Merseyside derby (Liverpool-Everton), Manchester derby (United-City) and Liverpool versus Manchester United are all must-watch games, as is any clash between any of the big teams. And, with six London-based teams and four from the Midlands region of England, there are plenty of opportunities for smaller local rivalries too.
Some of these derbies were first played in the 19th century and, although the EPL itself began in 1992, the structure of 92 professional clubs it sits atop dates back to the founding of the Football League in 1888.
But the EPL has formed an identity of its own over the past 22 years, based around the influx of non-British players who began to arrive in greater numbers from the mid-1990s onwards. The likes of Thierry Henry, Didier Drogba, Cristiano Ronaldo and Luis Suarez became global stars in the EPL and came to define it around the world.
The league's most appealing quality, though, is the frenetic pace of its play. In contrast to Spain or Italy, where keeping the ball is valued above all, EPL teams are always misplacing passes and giving the ball back to each other, leading to a more attacking, faster style of soccer where games get stretched quickly. If you thought the final stages of the World Cup got a little slow, you'll find the EPL the perfect antidote.
Image Credit: Getty