Inspirational Photoshoot Empowers Acid Attack Survivors to Challenge Beauty Standards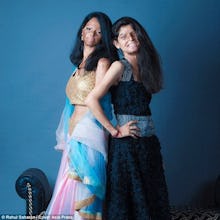 It's going to take more than acid to silence these courageous women.
When New Delhi-based photographer Rahul Saharan started working on a project for Stop Acid Attacks, a campaign against acid violence, he never imagined such an overwhelming response to his pictures. But the inspiring photoshoot, featuring five acid attack victims — Rupa, Ritu, Lakshmi, Chanchal and Sonal — clearly struck a chord on Facebook, where it racked up more than 30,000 likes in the last week.
The throwing of acid is an extremely gendered crime in India, where the nonprofit Acid Survivors Trust International estimates that more than 1,000 cases involving female victims occur every year. Accurate numbers are almost impossible to tabulate because so many victims are afraid of reprisals if they file official reports, but there seems to be a consensus that in India, the brutal trend is on the rise. Last year, India's Supreme Court ordered stricter laws for acid sale and made acid attacks a non-bailable offence. In Bangladesh, there is a death penalty for such attacks.
While the reasons for chemical attacks vary, the result is always mutilation and a potentially drastic decrease in quality of life. One of the models in the shoot, Rupa, was attacked in 2008 on the order of her stepmother, who conspired with four men to throw acid on her in her sleep. After living in anonymity for the last six years, hiding her face and being embarrassed by her appearance, it was tough for Rupa to find the courage to appear in the photographs. But this shoot, which featured clothes designed by Rupa herself, was an important first step in the young woman's lifelong dream of becoming a designer. 
Saharan, who worked on this shoot for free, told Mic that he wanted to show that behind the distorted physical features of these women, who have suffered a violent crime, there are beautiful people who inspire courage and positivity.
"I had not thought this will get recognized by anyone beyond my Facebook friends. Our only motive was to change people's perception about beauty and make a positive statement that these women are beautiful, and so are all other women who are told they are not fair enough or thin enough," Saharan, 24, said in a phone interview.
Saharan has been volunteering with Stop Acid Attacks for two years. When he was contacted for this shoot, he knew that this wasn't about dolling up models or attempting to change their appearance — this was about empowering these women to be comfortable in their own skin. "We wanted to keep the photos simple, candid and focus on their real laughter. Because no cosmetics can buy you that," he told Mic. 
The project, of course, has special resonance in India, but women around the world fall victim to acid attacks every year. "There are only two kinds of reactions people have for acid attack victims, either of complete rejection or of sympathy. But we wanted to show their normal, emotional side," Saharan told Mic. "We wanted to get them the respect that they deserve."
In the years since her attack, Rupa severed ties with her father, dropped her last name, moved to Delhi and has undergone 12 surgeries, not to mention continued rehabilitation with Chhaon, meaning "shelter," another part of Stop Acid Attacks that aims to provide a safe environment for such victims. 
Since the amazing reactions for the photos started trickling in, Rupa has received some dress orders, and the organization hopes that they can help her set up a store, proving that her oppressors were ultimately unable to either silence her voice or break her spirit.
Image Credit (all): Rahul Saharan
To support these women, visit www.stopacidattacks.org.
Find Rupa's designs online at Chhanv Boutique.