Rihanna's Secret Weapon Just Released a Brilliant New Song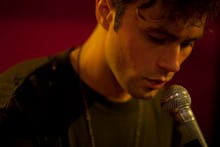 You probably don't know Mikky Ekko, but you've heard him sing on Rihanna's brilliant "Stay," a song even music legend Patti Smith loves. On Friday, he released a piercing new song that accurately sums up how most of us feel about the world right now. It's called "Smile," and it's dark, uplifting and brilliant.
"Smile" is the culmination of Ekko's long, soulful journey to break into the pop world. The 29-year-old began his career in Nashville eight years ago, gigging his way through numerous bands and odd jobs to keep himself afloat.
In 2010, he caught a break when his track "Who Are You, Really?" caught the ear of underground beat-maker Clams Casino, who has worked closely with A$AP Rocky, Lil B and The Weeknd. Ekko and Clams Casino met in Jersey, and as Ekko's bio on his site puts it, "became fast friends." Together they cut the 2012 track "Pull Me Down," a woozy, spaced out, trip hop jam that leaves a plenty space for Ekko's vaulting soul. 
His pop-soul aesthetic soon caught the ear of Rihanna and RCA Records. "Stay" was originally written for Ekko's first upcoming LP, but when Rihanna heard it she had her people call Ekko. In a star-struck daze, he was only too happy to hand it over. She had him sing it with her. It's been played on YouTube over 300 million times since.
That was the proof that Ekko has something big, waiting to break. He believes the song made such a huge impact because people need honesty and vulnerability in their music above all else. This, he asserts, is why Adele's 21 was such a monumental success. He seeks to tap into that same personal, deeply human vein. "I love desperate-sounding music," he told Interview mag. "I love things so intensely that if I don't set them free, I'll crush them. I want to create new places. You'll just have to trust me that I won't crush you if we go there."
Ekko is now beginning his gear up for his first major label release coming this fall, Time. There's no word as of yet if "Pull Me Down" or any of his other cuts have made the album. But if they do, then we can assume with full confidence that Mikky Ekko has got a serious opus on his hands. Keep an eye out this fall — if anything, the best is yet to come.