This Giant Carpet of 750,000 Flowers Is the Most Beautiful Thing You'll See Today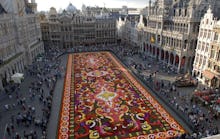 The living carpet, which measures 82 feet wide and 250 feet long and covers nearly 20,000 square feet, was planted earlier this week in Brussels by a team of 120 workers. Its 750,000 begonias, to represent Belgium, are assembled in patterns modeled after traditional Turkish tapestries.
A historical living monument: Belgium began allowing Turkish citizens to come to the country as guest workers in 1964 when the country needed more laborers to meet the needs of its expanding economy. As a result, more than 230,000 Turkish citizens live in Belgium today. About a quarter of them live in Brussels. 
Image Credit: AP
Here's how it's done: Working from a giant sketch of the design drawn on a plastic sheet, volunteers spend between six and eight hours arranging live cut flowers along the patterns over the plaza's stones.
Unfortunately, flowers don't live forever. The magnificent display, which lasts just four days, will disappear late Sunday evening.
Thankfully, some recent visitors have chronicled the sight on Instagram:
h/t Smithsonian