President Obama: The Justice Department Is Investigating the Death of Michael Brown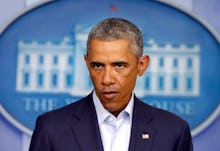 Update, 4:40pm ET: President Obama announced on Monday that the Department of Justice is opening an independent civil rights investigation into the shooting death of Michael Brown in Ferguson. Attorney General Eric Holder will travel to Ferguson on Wednesday to coordinate with law enforcement officials on the ground.
Obama spoke out against members of the community who were using the otherwise-peaceful protests as a chance to loot local businesses. "I understand the passions and the anger," said Obama. "But giving into that anger by looting only serves to stir tensions."
Obama also urged Ferguson residents to exercise restraint. "To a community in Ferguson that is hurting and looking for answers, let's seek to heal rather than wound each other," he said. "As humans we must seek out our shared humanity laid bare by this moment."
The news: The ongoing situation in Ferguson, Mo. quickly worsened again this weekend after a few days of relative calm. Tensions escalated significantly on Sunday as police used tear gas violently dispersed hundreds of angry protesters marching towards a police command center — two hours before a midnight curfew was scheduled to go into place. Missouri's Gov. Jay Nixon said on Monday morning that he would send the National Guard to Ferguson to restore calm.
As protesters clashed with police, the New York Times revealed that 18-year-old unarmed black teenager Michael Brown had been shot by police an astonishing six times, including four shots to the right arm and two to the head. Police claimed that protesters had lobbed Molotov cocktails at authorities, a claim vigorously contested by a pastor mediating police-community tensions. Reporters at the scene documented riot police's continued aggressive tactics, including tear gas hitting an eight-year-old boy. USA Today wrote of gunshots, while members of the media were threatened with arrest if they left a designated media zone.
Here's some of the latest scenes coming out of Ferguson:
Reporters documented police continuing to fire tear gas upon the dispersing crowd well before the curfew was put in place:
Early on Monday morning, a Vice crew was escorted away from the protests.
Authorities were quick to point to sporadic looting, but community members intervened more quickly to prevent it than the cops themselves.
The background: The autopsy results, privately requested by Brown's family, show that Brown was shot six times by police, casting grave doubt on the authorities' claims that his killer acted appropriately. The New York Times obtained this graphic from the procedure:
Image Credit: Dr. Michael M. Baden via the New York Times
"In my capacity as the forensic examiner for the New York State Police, I would say, 'You're not supposed to shoot so many times,'" Dr. Michael M. Baden, who performed the autopsy, told the New York Times. "Right now there is too little information to forensically reconstruct the shooting."
According to CBS, locals claim that Brown was shot with his hands up while surrendering and the police department's continued attempts to delay the investigation, mask details and paint Brown as a dangerous criminal are absolutely making the situation worse. So too are rumors floating around of responding police officers removing their name plates to prevent identification:
Not to mention the continued harassment and arrest of reporters covering the protests, including MSNBC's Chris Hayes, who was threatened with mace:
By the way, Capt. Johnson is the state highway patrol officer who was brought in to change the police's ugly tone towards the protesters.
Why you should care: Community members aren't satisfied by the authorities' response to Brown's death, and the subsequent police violence during the past week has only deepened their resolve. The protests are no longer solely about Brown. The New Yorker's Jelani Cobb writes that "What began as an impromptu vigil evolved into a sustained protest; it is now beginning to look like a movement."
Ferguson's decades of racist, militarized policing are at the core of their complaints and it's becoming increasingly clear that tear gas and rubber bullets can no longer halt the community's aspirations for something better. As it stands now, both sides seem to be digging into their positions and as long as the police and law enforcement continue to utilize their harsh, almost totalitarian-regime-tactics, it's unclear when this will ever end.