A New Jersey School Banned This Teen Simply for Being Herself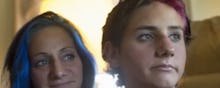 The news: Discovering one's gender identity and transitioning into a chosen gender is a stressful experience for any young person. But for New Jersey teen Rachel Pepe, the already difficult process has been exacerbated by the very institution that should help her: her school.
On Saturday, New Jersey paper Asbury Park Press published an interview in which Pepe and her mother detailed the ordeals that they have been through. According to the family, officials at Thorne Middle School told them that Pepe would not be allowed to attend school unless she dressed, acted and identified herself as Brian, her birth name.
"This isn't a phase," said Angela Peters, Pepe's mother. "She is not going to grow out of this." The school officials did not care: In their eyes, Rachel's official name was Brian and the school did not have the means to accommodate a trans student.
Video Credit: APP via YouTube
Being trans in America is still incredibly hard. Despite the many advances that have been made by the LGBT community, transgender people — especially those who are young — remain at high-risk of discrimination and abuse. According to the Trevor Project, nearly half of young trans people report having thought seriously about suicide, with a quarter attempting. Advocacy group Transgender Law has also found that over 80% of trans people have been verbally abused, while over 30% have suffered physical abuse; around one in five reported housing discrimination.
And even when direct abuse is not involved, misinformation and lack of understanding about trans issues can make it difficult for trans people to live their lives. Case in point: take Middletown Schools Superintendent William O. George, who responded to the Pepes' complaint with this tone-deaf statement:
"Every child is different and their education and social and emotional well being is my priority. We will work with them to find the appropriate placement," George told the Asbury Park Press. "I support this without interviewing this child. It certainly is reasonable. Children with psycho-sexual issues often benefit from a fresh start at a new school," he added.
While the sentiment is nice, the fact that George dismisses gender dysphoria as "psycho-sexual issues" indicates his lack of understanding of what Pepe is going through; recommending that she start at another school, without interviewing her or investigating what her current school can do to accommodate her, is also concerning.
Still, Pepe is keeping her head up. "There could be other kids scared out there, who live secretly at school and go home and be themselves," she said in her interview. "If this helps one person, I can be happy about that, too." 
h/t USA Today