Hidden Camera Reveals the Harrassment Little People Face Every Day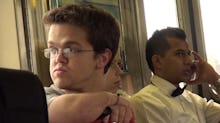 Little People, Big World might be getting big ratings, and Tyrion Lannister might be everyone's favorite Game of Thrones character, but for the average American with dwarfism, abuse and discrimination still remain all too common.
Jonathan Novick is a young man living in New York City who happens to be a little person. As he demonstrates in his short autobiographical documentary Don't Look Down on Me, the simple fact of his condition can attract all manners of harassment in his day-to-day life.
Novick wore a hidden camera and walked around New York City for a day — that's right, just one day of filming gave him more than enough footage for his mini-doc. While some of the encounters are uncomfortable but not malicious — children giving him curious looks, people asking him about Little People, Big World — others are indefensibly inappropriate and demeaning. One man asks Novick for a picture as though he is a walking photo-op, while others take pictures of him without even asking for his permission.
Image Credit (all): YouTube
But through it all, Novick manages to stay positive.
"I don't want to tell anyone what to do, or how to think or how to feel, but instead, what I'll do is I'll ask," he says at the end of the film. "The next time you see someone who is different than you, think about what their day might be like. Think about all the events of their life leading up to that point. Think about their day, think about, what part of their day do you want to be?"
h/t: BuzzFeed