Canada's Doctors Just Took a Major Stand on Marijuana Legalization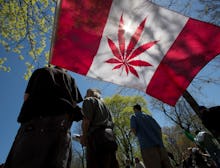 The news: Groups representing Canada's doctors have overwhelmingly rejected participating in Health Canada's upcoming anti-drug media campaign, calling it a "political football" on Canadian marijuana policy.
Three groups — the College of Family Physicians of Canada (CFPC), Canadian Medical Association (CMA) and Royal College of Physicians and Surgeons of Canada — co-signed an official statement Saturday refusing to help Health Canada, the department of government responsible for national public health, craft anti-drug messaging toward young people.
"We did not, and do not, support or endorse any political messaging or political advertising on this issue," the doctors write, noting that they will continue to conduct their own campaigns on drug and alcohol abuse. Combined, the Globe and Mail reports the groups represent all 80,000 Canadian doctors.
The background: Last week, Liberal Party chief Justin Trudeau accused the Health Canada campaign of being undermined by political goals — namely, attacking Canadian left-wingers for their support of an end to marijuana prohibition.
After Trudeau accused the government of using the ads as a pretext to attack legalization, a spokesman for Conservative health minister Rona Ambrose shot back that "Justin Trudeau can stand for pot but we are standing up for parents who want to know the harmful effects of marijuana on their kids."
The Conservative Party has launched a series of vicious attacks on Trudeau for his stance on weed, including Toronto-area flyers that accused him of desiring to "make buying marijuana a normal, everyday activity for young Canadians" and of touring "schools to tell kids that pot should be legal."
Though legalizing marijuana has around the same amount of support in Canada as in the U.S., with around 57% approval, right-wingers in the country have seized on the wedge issue as a promising line of attack.
Why you should care: Canada's doctors are concerned about health and wellness, not conservative governance, so it's inspiring to see they've reconsidered their involvement in a campaign widely suspected of being anti-legalization propaganda. The doctors opting out doesn't necessarily mean they support legalization, but it does mean they'd rather support an evidence-based drug policy than an explicitly right-wing one.
A WebMD poll found that 67% of American doctors support an option for medical marijuana, while around half are in favor of legalization. Gallup reports that an astonishing 58% of Americans now support legalization outright. Despite this, harsh drug laws like the Controlled Substances Act of 1970 prevent medical researchers from even studying marijuana. Both the U.S. and Canada deserve medically sound, evidence-based drug policies — and with less spin.