Watch a Ferguson Cop Threaten to Shoot a Journalist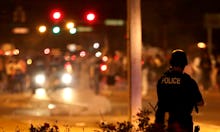 As protests against excessive force and a pattern of racist policing escalated Sunday night in Ferguson, Mo., police fired tear gas at demonstrators. In another sign of how bad things are in the town, one police officer threatened to shoot local journalist Mustafa Hussein.
Hussein was live-streaming the protests for the all-volunteer radio station Argus Radio, which is streaming the events in Ferguson live via the "I am Mike Brown" channel on Livestream.com. As tens of thousands of people were signed onto the broadcast, a police officer could be clearly heard telling Hussein, "Get the f**k out of here! You get that light off or you're getting shot with this!"
The full clip can be seen below:
The threat of violence failed to deter Hussein, who ThinkProgress reports merely notified another police officer and journalists, as well as his father.
Other reporters were harassed throughout the night, including MSNBC's Chris Hayes, who was allegedly told to stay behind a police perimeter or be maced.
Hussein has apparently made good on an earlier promise, having announced Wednesday that, "We will not be turning off our cameras. We will continue to broadcast, even if it is at our own peril." This is just more proof that it's pretty hard to silence people through force, especially if they're protesting police brutality in the first place.
h/t Think Progress