The Trailer for Jay Z and Beyoncé's 'On the Run' Doc Is Finally Here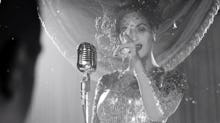 After weeks of promos and teasers, it's finally here: the official trailer for Jay Z and Beyoncé's On the Run concert special on HBO.
The special will feature concert footage from the couple's shows on Sept. 12th and 13th at the Stade de France in Paris and will showcase 40 of the their hits from over the years.
HBO has become the chief documentarian of all things Jay and Bey, bringing the masses four related pieces in the past two years. Beyoncé is currently starring in Beyoncé: X10, a series of four-minute clips from her life on her Mrs. Carter Show World Tour, which airs on HBO before every new True Blood episode. Beyoncé's Life Is But A Dream aired February 2013, and Jay Z also used the network to share his Picasso Baby: A Performance Art Film last August.
The latest trailer profits, intentionally or not, on the rumored turbulence in the stars' marriage. Beyoncé channels early '60s decadence with a sequined cocktail dress and a sultry cover of Nancy Sinatra's "Bang Bang." Jay Z, ever the boss, looks on from the crowd as she looks straight at him and sings,"Bang bang, he shot me down." She raises her hand and mimes shooting him. Everybody in America will be watching this film.