These Dutch Soccer Fans Are Protesting Against One of Sports' Most Unexpected Foes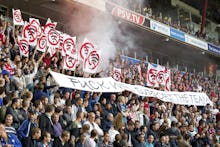 When Dutch soccer club PSV Eindhoven opened its season Saturday afternoon, a group of PSV supporters began a coordinated protest in the stands.
The outcry had nothing to do with rising ticket prices, unwelcome owners or bad transfer moves, all frequent targets of supporters' ire. Instead, the fans had an ax to grind with a more nebulous foe: technology.
"Fuck Wi-Fi, support the team," a large banner read, surrounded by more than a dozen placards in which the universal Wi-Fi symbol had been crossed out.
The atmosphere at PSV games, according to the fans in Sections T and U at Philips Stadion, was under attack, with the implementation of a stadium Wi-Fi system being just another way to attract fans more interested in checking their phones than singing songs and generally creating an atmosphere like this.
Recently, PSV stewards had cracked down on the oft-ignored rule that supporters, even the most extreme ones, have to sit down during the game. As such, the fans also held banners that read "You can sit alone" and "Stand united." 
Entire volumes have been written about the English Premier League's shift from rowdy working-class supporters to more staid, deeper-pocketed fans. The PSV rank-and-file are clearly worried about the same thing happening to the Eredivisie.
Visit Manchester United's Old Trafford stadium and you're likely to be surrounded by tourists, while the vocal visiting supporters laugh at how quiet 74,000 fans can be. Chants of "This is a library!" are commonplace from the opposing fans.
It's gotten so bad that Manchester United has publicly taken steps to try to remedy the matter. Last year the club tried to create a better atmosphere by creating a designated "singing section." And just this month, United announced that iPads would be banned from the stadium, although this is probably less an atmosphere-motivated change than one intended to stop high-quality video recordings from making their way online.
Whatever the case, the Eindhoven fans would surely welcome a similar ban in PSV's Philips Stadion. How do you say "iPad wanker" in Dutch?